The EDHEC brand
Over the years, EDHEC has forged an identity that is reflected equally in the School's visuals, sound and text. These attributes illustrate EDHEC's distinctive approach as a business school, focused on equipping new generations with the tools needed to initiate new practices and to enduringly transform the business world.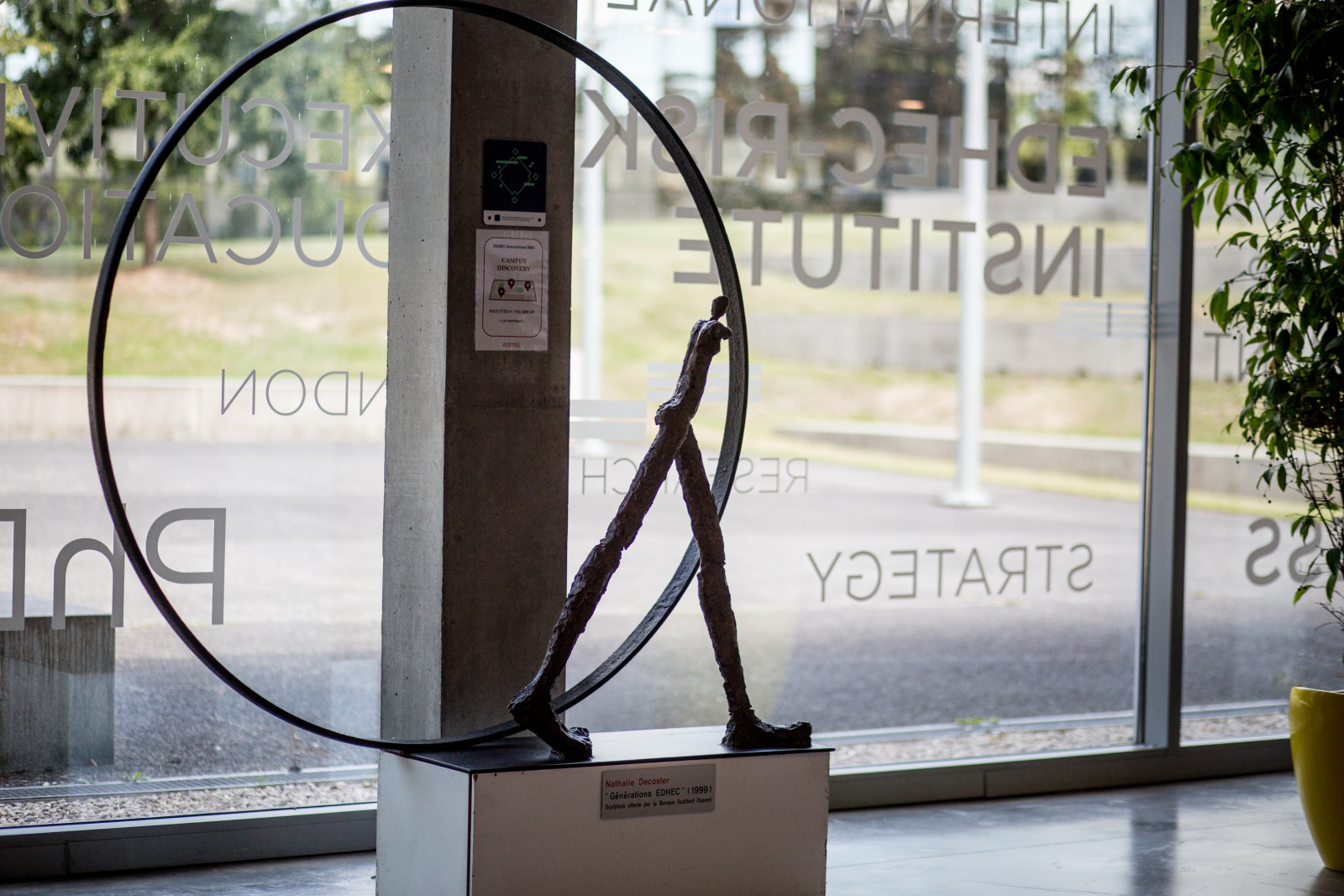 Combining strength and perseverance, this artwork by Nathalie Decoster embodies EDHEC Business School's image.
As part of the School's first fundraising campaign in the early 2000s, EDHEC asked Nathalie Decoster - a French sculptress based in the Lille region - who explores humanity's great universal questions and its relationship with time or nature – to design a work symbolising EDHEC's identity and reflecting the student experience at the School and man's relationship with the world. From her creativity this piece of art was born, a bronze artwork representing a man moving continuously forward, step by step, alongside a circle.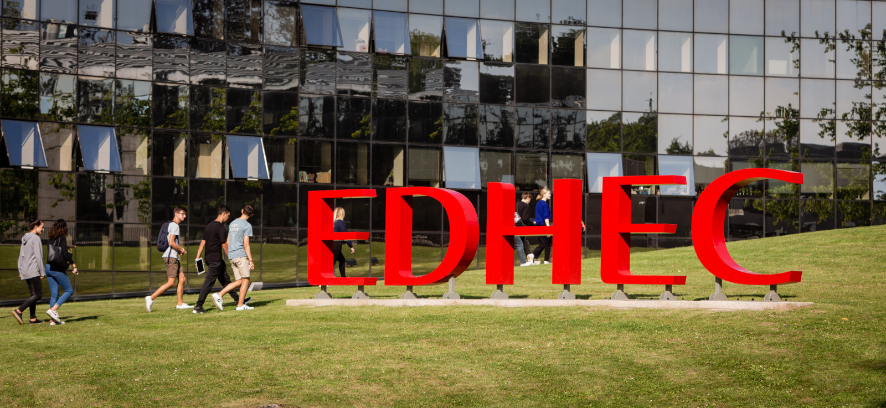 A work that quite naturally became EDHEC Business School's emblem and the starting point for our logo.

"Make an impact", a message embodying the ambition and leadership that is emblematic of EDHEC and which unifies all the School's stakeholders:
The students and managers who follow our EDHEC programmes, so that they can improve on accepted ways of doing things.
The School's professors and partners, so that they can train future leaders who are useful to both business and society.
Society as a whole, so that it reaps the benefit of EDHEC's forward-looking vision and its goal of supporting positive change in the economy and the business world.
A message that asserts the School's can-do attitude and the value added by its teaching, geared towards and for business.
As France's first Grande École to create its own sound identity, the School was eager to add new depth to the EDHEC brand through a sound signature imagined with the creativity of Michaël Boumendil, Chairman and Founder of Sixième Son, EDHEC 1994.
Deliberately positive and engaging, the original composition reflects the School's desire to be a driver of responsible change and to make an enduring impact on the economy and broader society.
It also expresses the ambitions enshrined in EDHEC's new strategic plan, Impact Future Generations 2025, and the School's commitment of training talented young people capable of making the world of business serve future generations.
Strong on personality, the sound identity embodies the clever mix of research and innovation in which EDHEC excels, the School's optimistic and smiling vision and its ability to move ahead, free from arrogance or naivety.

Michaël Boumendil
Chairman and Founder of Sixième Son
As France's first Grande Ecole to adopt a sound identity, EDHEC was eager to add new depth to its brand, via a sound signature created with the wholehearted engagement of Michael Boumendil, Chairman and Founder of Sixième Son.
Just two years after pocketing his EDHEC degree, Michel Boumendi set up his agency in 1995, in a move that ushered in the concept of sound identity for brands. Voted "EDHEC of the Year" by his peers in 2005, Michel has remained firmly engaged with the EDHEC community and the School's students since that time, providing regular testimony of his passion for creating sound environments for a roster of illustrious brands: Samsung SNCF, Renault, Roland-Garros, Petit Bateau, Michelin, Royal Bank of Canada and Axa among others.
Well aware of the worldwide challenges facing business schools of global stature like EDHEC, Michael Boumendil was keen for EDHEC's sound identity not only to embody the School's ambition, but also to inspire future generations and bring together the whole of the EDHEC community.
EDHEC's sound identity – Dynamic version
EDHEC's sound identity – Calm version
Agency: Sixième Son
Chairman & Creative Director: Michaël Boumendil
Managing Director: Laurent Cochini
Senior Art Directors: Vincent Turbé and Julien Goris
Project Directors: François Gioux
Musical Design: Alice Lépine, Alexis Mangou, Pierre Moreau
Entity: EDHEC