Our Campuses
International and connected to major international economic centres, EDHEC campuses are places for learning, working, sharing and conviviality, designed to offer everyone the best conditions for expressing themselves and succeeding in their career.
A unique, seamless, personal experience for those who want to have a positive impact and change the world and society.
Entrepreneurship Campuses
Established in Lille, Nice, Paris, London and Singapore, EDHEC is one of the 15 best business schools in Europe. Resolutely international and directly connected to the major international economic centers, EDHEC campuses are places of learning, work, sharing and conviviality designed to offer everyone the best conditions to express themselves and succeed in their career.
Creating flexible and eco-friendly campuses
EDHEC is a pioneer of American-style campus life in Europe and a trailblazer in hybrid learning. EDHEC offers immersive learning experiences (EDHEC Online), mixed education courses, and shared projects. EDHEC is launching its Share & Care Campus Project, representing a 55-million-euro investment in campus renovation and expansion, including 24,000m² of new classroom and learning space by 2026.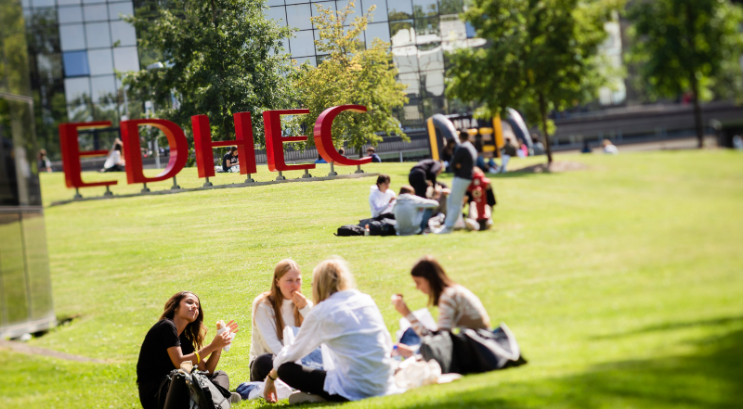 Campus Digital
Working as a team, whether face-to-face or online, communicating instantly and effectively, having access to educational and scientific resources at all times: EDHEC is constantly investing in cutting-edge technology enabling its entire community to a seamless learning experience.
Students and participants from all over the world have access to diploma and certification programs, from the online BBA to the PhD, through initial training and continuing education. All EDHEC training programs benefit from the latest educational technologies.
EDHEC Business School offers individual and collective support allowing students to succeed in a homogeneous learning environment using various media (video conferences, holograms, documents shared under a protected network, dedicated applications, etc.) and offering different levels of 'interaction ; from solo study to working group, from consultation through a private social network to sessions and workshops on case studies of partner companies.
A sustainable student experience
EDHEC is dedicated to creating green campuses. Following a sustainability audit, the school is analysing the carbon footprint of its campuses and developing a plan to make them environmentally responsible learning, working, and living spaces. This includes recycling rainwater, installing motion detectors for lights and heating, constructing charging stations for electric cars, encouraging low-polluting transportation for staff and students, banning pesticides, planting vegetable gardens, protecting century-old trees, and planting rare plant species.
The school is putting out a request for proposals to architecture firms interested in creating the campus of tomorrow—one that is sustainable, flexible, and collaborative.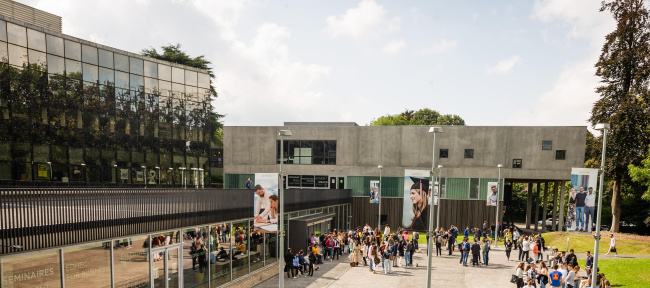 360° virtual tour of the campuses
To discover our campuses, explore or prepare your visit, we offer 360° virtual tours of the campuses and their exteriors.