Executive Education Certificate Courses
Practical, actionable insights into the most complex and essential issues and trends.
As managers and (future) leaders in a constantly evolving business world, you need to be agile, make quick, informed decisions, and communicate, motivate and inspire your teams. EDHEC Executive Education short programmes and certificate courses are designed to provide practical, actionable insights into the most complex issues and business management trends. 
Benefits of EDHEC's short programmes and certificate courses
As managers and leaders in a constantly evolving world, you need to be agile, make quick, informed decisions, and communicate, motivate and inspire your teams. Our short programmes and certificate courses will teach you leadership skills and provide you with the tools you need to become a successful executive.
Benefits for you

Benefits for your business

Acquire a strategic overview of specific management and business issues​.
Develop actionable and implementable solutions.
Sharpen your managerial and leadership skills​.
Gain new knowledge, insights, and perspectives from highly-esteemed faculty and a

world-ranked Business School​

.
Develop your professional network.

Gain knowledge, insight, and new perspectives for your business​.
Develop and motivate the most talented members of your workforce. 
Provide your leaders and managers with the necessary skills and knowledge to optimise their performance​.
See immediate results through EDHEC's expert and action-based teaching methodologies
In a world that is constantly changing, managers become key players in the transformation of the company that strives to evolve. Developing their managerial skills and leadership style is now, more than ever before, an important strategic challenge. With EDHEC Executive Education's Management Certificates you develop specific business skills by participating in short and complementary training programmes within a stimulating and innovative learning environment.
Martine Caffiaux
Director, EDHEC Executive Master Business & Management and Management Development Certificates
In a world where the rhythm of transformation is accelerating, short certificate programmes for executives were developed in order to accompany leaders faced with current and ongoing changes. The 5-day training course targets specific issues and provides participants with the keys to decipher changes, no matter how paralysing they may seem at first glance. Tools are introduced for achieving immediate action. The short programmes focus on the 4 most important dimensions of value creation: Transformational leadership, digital strategy, CSR strategy, and financial strategy. You learn to take a calculated step back in order to assess the situation, develop the tools for implementing your new vision, reinvent your leadership style and drive the transformation of your organisation.
Maïlys Vicaire
Co-Director of Executive Programmes, EDHEC Executive Education
EDHEC's short programmes and certificate courses
EDHEC Executive Education offers a range of short programmes and certificate courses for managers and senior leaders, combining blended and in-person learning.  
Led by the academic excellence of EDHEC's faculty and experienced business leaders, our short programmes combine theory and discussion with action learning. EDHEC also provides fully-tailored online leadership programmes for companies. It ranks #8 worldwide for Custom Programmes (Financial Times, 2020/21).
 
Certificate courses for Directors and Senior Executives
Short and intensive programmes for Directors and Senior Executives
The certificate programmes by EDHEC Executive Education are a series of 5-day intensive courses designed for directors, senior executives, and leaders. Each programme blends theory and discussion with action learning.
Every Acceleration Week has been developed to focus on creating strategies and solutions for one business-critical issue:
Digital strategy 
Value creation 
Leadership 
Sustainable business
EDHEC's Management certificates
The Management Certificates from EDHEC Executive Education are designed to offer experienced and future managers the opportunity to develop strategic competencies, during short and intensive programmes.
 
In a constantly changing and challenging world, managers and team leaders are on the frontline of business transformation. Developing your management capabilities and leadership skills is critical for business success. ​The short and intensive format of our Management Certificates is ideal for individuals looking to progress in their careers by developing core leadership competencies. The certificates are ideal for businesses that aspire to further develop the competencies of existing managers and talents in order to achieve actionable and tangible results for the organisation. ​ ​
 
The Management Certificates enable participants to make an immediate impact on their careers and companies. They gain new perspectives and build a solid network of peers from all sectors, supported by EDHEC's exceptional faculty, business experts, and a diverse and experienced cohort. ​
4 individual but complementary management certificates:
Strategy and Team Engagement
Sustainable Business Development
Effective Leadership
Effective Team Management
A lot to learn on the agile transformation of organisations, the need for adapting one's leadership in a dynamic environment where meaning has to be constructed, fascinating speakers and a diverse class. I highly recommend this course!
Severine Lahary
IT Director, ENI Group - Certificate course 'Transformational leadership' 2022
Beyond the great pedagogical and human qualities of the speaker, who was able to demystify financial management tools, I particularly appreciated the exciting and enlightening day at the Station F incubator, where we met professionals from investment funds and start-ups, players across the entire value chain, for a real-life perspective of the theoretical courses of the previous days as well as frank discussions about the respective activities of the participants
Christine Le Bellégo
Market Director – Organic, Carrefour - Certificate course 'Finance & Strategy'
An executive management course is a programme designed to offer managers, directors, and executives with the tools and leadership skills necessary for their continued professional development. EDHEC Executive Education short programmes and certificates are designed to provide practical, actionable insights into the most complex issues and business management trends.
New business models, ways of working, and rapidly evolving technologies are disrupting even the most traditional and established markets and industries. Short business courses arm leaders with the tools and leadership skills needed to compete, innovate, transform and create sustainable value for their business in an ever-changing global environment.
Executive education is an asset for managers and executives who want to enhance their business skills, practice impactful and positive leadership, transform their global business vision and acquire the tools that will enable them to become key players in a company's evolution. Executive education programmes at EDHEC are paramount in providing the tools which enable participants to optimally decipher and then strategise around the business challenges which arise in a constantly evolving global environment.  Alumni become members of an experienced, diverse, and international alumni network of inspiring and innovative leaders and entrepreneurs who continue to support each other long after the completion of their programmes. 
Which of the EDHEC certificates is right for me?
Why not send us your profile and one of our admission managers will contact you to find out.
Events
26.09.2023

- Face-to-face

26.09.2023 - 27.09.2023

- Individual meetings | Fairs / Meet-ups | Face-to-face

28.09.2023

- Fairs / Meet-ups | Face-to-face
News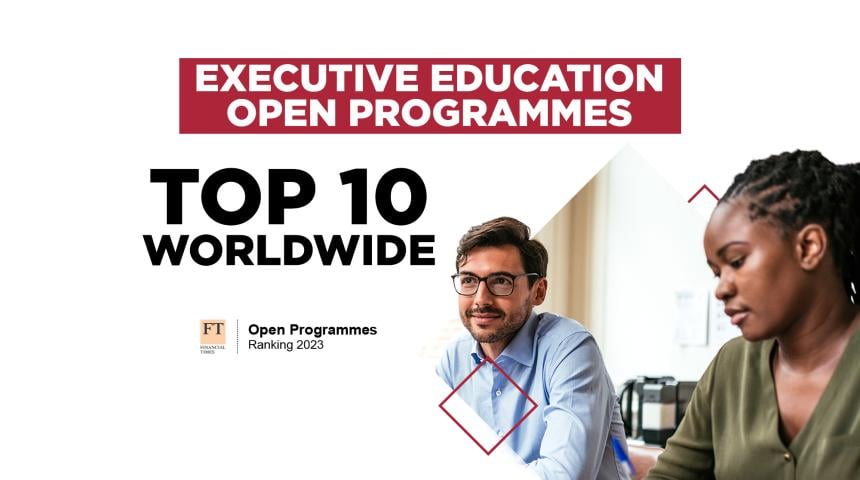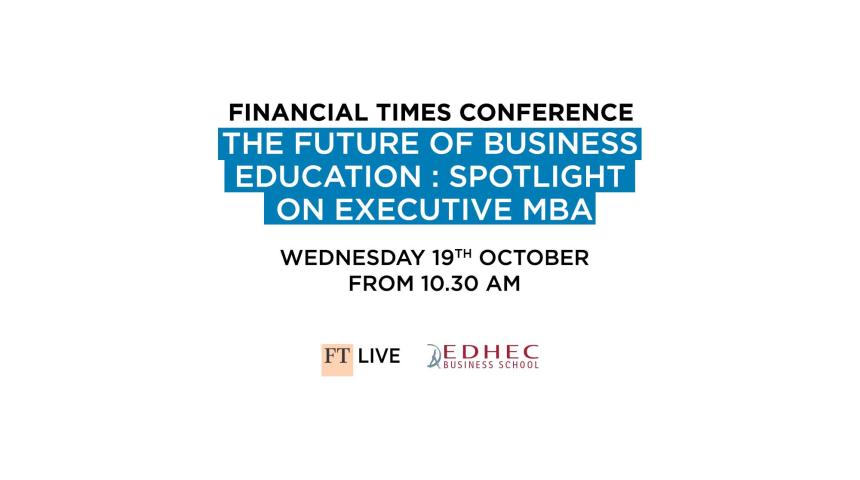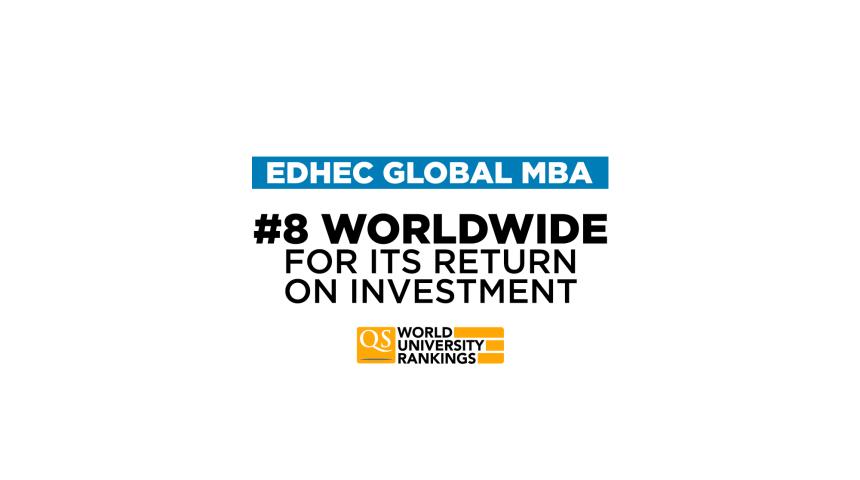 29.09.2022 - EDHEC
QS ranks EDHEC's Global MBA eighth in the world for its return on investment
EDHEC's Global MBA programme has once again being recognised for impact, value a…
Newsletter
By subscribing you agree to our Privacy Policy and to receive information about EDHEC Executive Education.