EDHEC Centre for Responsible Entrepreneurship
The EDHEC Centre for Responsible Entrepreneurship was created by EDHEC Business School in early 2022. It brings together EDHEC Entrepreneurs (the entrepreneurship awareness and startup incubation programmes), all the initiatives and curricula focused on entrepreneurship within the teaching programmes, as well as research projects on this theme, particularly the Family Business Chair.
« I am very proud that EDHEC has decided to make responsible entrepreneurship a central part of its long-term strategy. The centre's positioning is unique within the European business school ecosystem. Our ambition is to motivate and train tomorrow's entrepreneurs in global performance: economic, environmental and societal. Venture capital funds, family offices and investors today select projects based on their ESG performance. And we are here to help entrepreneurs, whether they come from family businesses or other backgrounds, from their very first steps to be globally efficient. EDHEC's investment in the centre, by intimately combining teaching, research and entrepreneurial support, offers an incredibly powerful tool for making a positive impact on society through business thanks to our student and graduate entrepreneurs. »
Ludovic Cailluet, Associate Dean, Professor of Strategy at EDHEC.
RESPONSIBLE ENTREPRENEURSHIP FOR FUTURE GENERATIONS
EDHEC Business School's 2020-2025 strategic plan places entrepreneurship at the forefront: the aim is to create the conditions for an ambitious, diverse and responsible entrepreneurial culture through the training provided, the framework offered and the research conducted. This culture is based on the school's history, from its creation by industrialists in the North of France at the beginning of the 20th century to the installation of EDHEC Entrepreneurs in Station F (Paris) and on the Jean Arnault campus (Roubaix). The inauguration in May 2022 of EDHEC's Centre for Responsible Entrepreneurship is a strong signal to future and current students, but also to potential recruiters and partners. "Make an impact", the school's signature, is now fully deployed in an entrepreneurial component that mobilizes numerous resources, educational, scientific and financial, in the service of future generations.
LAUNCH OF THE "RESPONSIBLE ENTREPRENEURSHIP BY DESIGN" INITIATIVE
June 2023 - EDHEC Business School is launching an innovative approach to transform the entrepreneurial ecosystem by enabling start-ups to integrate economic, social and environmental performance issues at the heart of their business model (governance, human resources, stakeholder relations, etc.) right from the start.
Applied to all the start-ups supported by EDHEC Entrepreneurs, the Responsible Entrepreneurship by Design (RED) approach, created by the EDHEC Centre for Responsible Entrepreneurship, takes the form of 3 concrete initiatives: a guide to supporting responsible entrepreneurship in start-ups, available as an open source resource; a scientific committee bringing together EDHEC professors and external figures to steer the research strategy on these subjects; and an overhaul of the way entrepreneurship is taught.
"While the success criteria for start-ups have changed, there has been little evolution in the reference methods used to create a company. The RED approach is designed to respond to the very strong need expressed by entrepreneurs for support to help them, in practice, to integrate responsibility right from the early-stage phase. Start-ups are agile and innovative, which makes them particularly interesting laboratories for studying the necessary transformations of the business model".
Justine Soudier, Deputy Director of the Centre and Director of EDHEC Entrepreneurs
A CENTRE ANCHORED IN AN ACTIVE ECOSYSTEM
The Centre for Responsible Entrepreneurship aims to ensure the continuum between startups, educational programs and research.
EDHEC ENTREPRENEURS
Since its creation, this program has been constantly reinventing itself to provide entrepreneurs with the keys to become involved and shape the future. Three paths are currently offered:
- Raising awareness. The path « Explore » aims to inspire and encourage the next generation of entrepreneurs to get started.
- Going from idea to prototype. The path « Experiment » offers three pre-incubation programs, hosting over 300 projects per year.
- Accompanying. The path « Execute » supports more than 50 startups per year, raising more than €100 million in funding since 2017. Just like with 900.care, Jump or Abracadabra Upcycling, the school wishes to support startups that combine economic performance - a guarantee of their sustainability - and positive impact, in all locations dedicated to entrepreneurship:
At Station F, in Paris, EDHEC has been established since its opening in 2017 thanks to the support of EDHEC graduates and patrons. With 110 places per year - for its graduates, those of partner schools and entrepreneurs hosted via the French Tech Tremplin - the school manages the second largest program at this iconic location in the European startup ecosystem.
On the Nice campus

, EDHEC Entrepreneurs supports 10 start-ups per year, positioned on various subjects.
Berkeley Sky Deck (of which EDHEC is a Global Strategic Partner) in California, developed within the EDHEC America initiative, gives several dozen students each year privileged access to the services of the prestigious American university's incubator via the Skydeck Pad-13 (Incubator) and the Cohort Program (Accelerator).
Oct. 2022 - White book on Responsible Entrepreneurship
EDHEC Entrepreneurs wanted to measure the current level of commitment of startups and understand their preferred levers of action and their difficulties. In partnership with STATION F, the incubator conducted an unprecedented survey of more than 200 startups to take stock of environmental, social and governance (ESG) practices in the French ecosystem:
TEACHING
Dedicated programs or specializations allow students from all pre- and post-experience programs to train before embarking on the entrepreneurial adventure. EDHEC professors are also encouraged to develop innovative projects; in this respect, the success of Scientific Beta is emblematic.
Programmes :
Options and spezialisations :
Other features :
RESEARCH
A dozen researchers have been working on entrepreneurship for many years, sometimes publishing in major international journals, sometimes in formats accessible to the general public such as white papers, case studies or manuals. One area stands out in particular: research on family businesses.
Family Business Chair. For more than 10 years, this research and training chair has contributed to the promotion and growth of family businesses by providing new perspectives and innovative solutions on their governance and management.
NEWS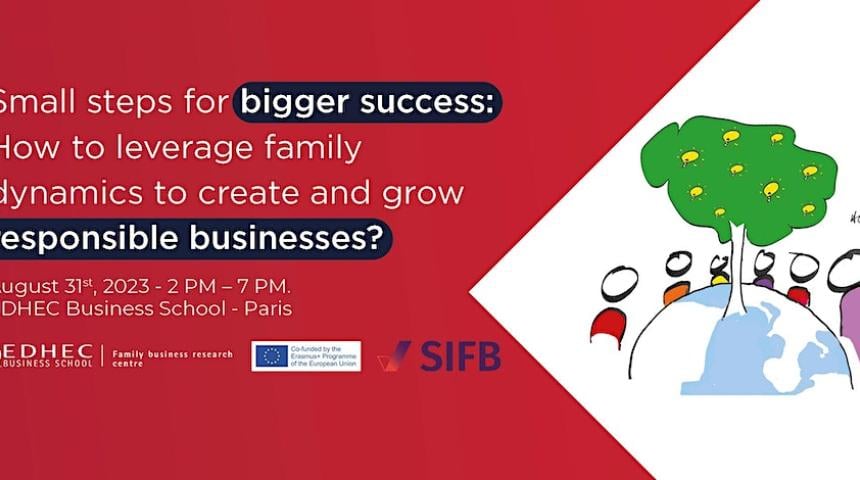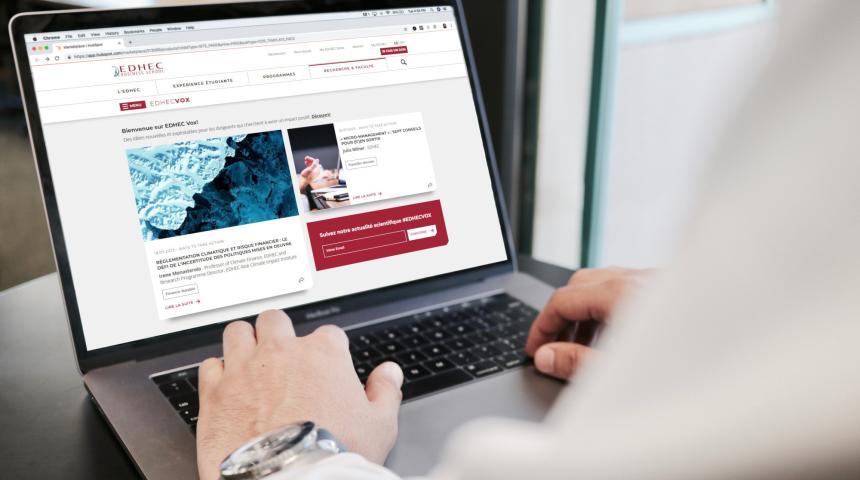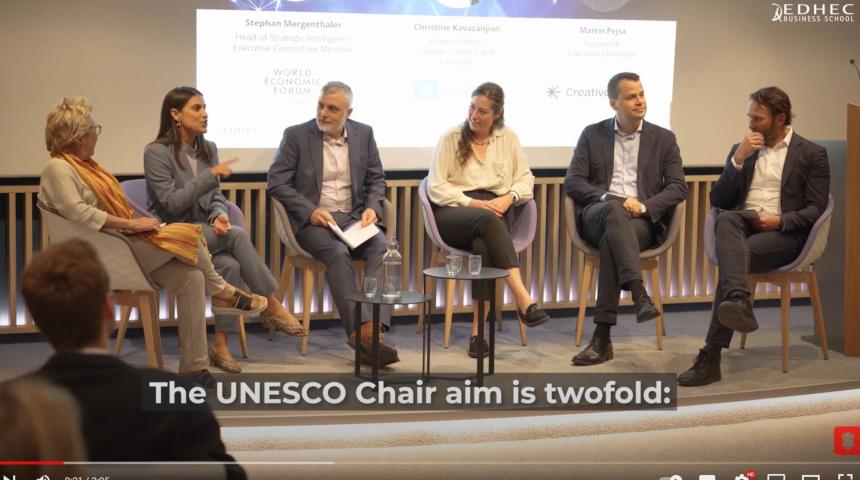 LATEST EDHEC VOX ARTICLES