Studying Abroad - Incoming and Outgoing
Outgoing Students
Outgoing EDHEC Students
---
Go Abroad as part of your studies
Have you ever wondered how to combine exploring the world while studying? Exciting opportunities are open for EDHEC Students!
Why go abroad?
Live in another culture, meet new people and see new places
Show potential new employers that you are capable, independent and that you rise to a challenge
Academic enhancement – broaden your knowledge by studying at one of our high-quality partner institutions - some of the leading universities and business schools of the world
Build an international network
Learn a Language
A year of adventure you might never get another chance to experience
Remember there is no additional tuition fees and you get support and recognition for your time abroad through the programme
SEMESTER OR FULL YEAR ABROAD
EDHEC has a long established and diverse international exchange network giving you an exciting opportunity to discover other regions of the world whilst studying for your degree.
A world of exchange opportunities is open for EDHEC Students. Depending on your track, your project, your academic interest, the Study Abroad team is here to guide you. To assist you in choosing the best Study Abroad, a serie of presentations and events are organized every year. Before, while and post your international journey, a dedicated coordinator will assist you every step of the way.
So where do you start?
Attend events : These sessions are a good way to find out about the opportunities available:  destinations, application procedure, selection criteria, calendar
EDHEC students who have already completed their academic exchanges, as well as international students, present their universities and share their study abroad experience.
Students can schedule a one on one appointment with its study abroad coordinator to received guidance and assistance to fine tune their international journey.
Detailed academic and practical information are available on MyEDHEC for each partner institution.
Incoming Students
Incoming EDHEC Students
---
To study at EDHEC, your home institution must have an active exchange agreement with EDHEC. You home institution exchange coordinator will tell you how to prepare your study abroad plans at EDHEC. More information on EDHEC's List of Academic Partners.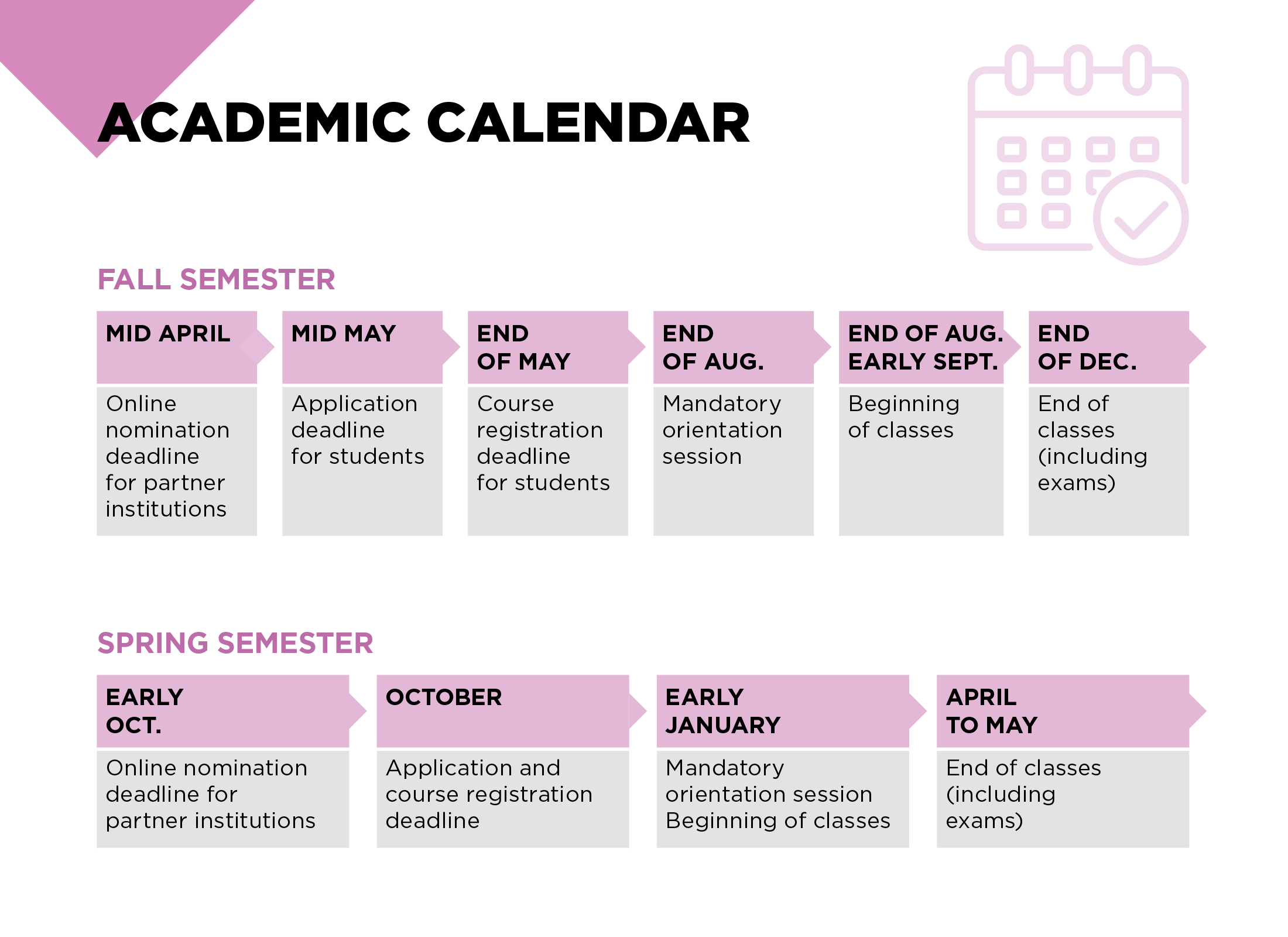 We suggest arriving about two or three days prior to the orientation session. Class attendance is compulsory. As a result, exchange students are required to arrive on time. Late arrival is not accepted.
Partner institutions will be asked to register the nominated students on-line. Each institution will receive an e-mail from EDHEC with the necessary information (URL, username, password etc.).
Simple Exchange programme
Required documents for Simple Exchange application procedure:
STEP 1
1 recent headshot photo (jpeg/pdf format)
Copy of official grade transcripts (French or English version)
Bachelor degree (only for MSc students, French or English version)
Copy of passport (or national identity card for European students)
STEP 2
Course registration form (signed by home university coordinator)
Double Degree programme
 
Required documents for Double Degree application procedure:
Bachelor degree or higher
Academic excellence
Scholastic potential (GMAT)
Certified fluent English (TOEFL, TOEIC, IELTS).
Application package: essays, personal resume, recommendation letters.
Special academic requirements for the MSc programmes Nice campus
Application form (to download from online application).
 
The final decision regarding admission to the MSc programme is at the discretion of the MSc Programme Director and EDHEC.
 
The International Relations Office is organised in two teams dedicated to ease students' transition into their future life at EDHEC. The Study Abroad Office is responsible for all academic aspects (application, course choice,etc.), whilst the International Student Office will assist students with all administrative procedures before the arrival in France and will also help students to adapt to their new life in France! More information here.