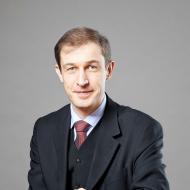 Cyril Demaria-Bengochea
Affiliate Professor
Senior Advisor for Private Assets
Main contributions
"Since 2003, I have been at heart to share my unique accumulated knowledge by publishing books and training professionals and students. I am proud to have had a positive impact on the professional, and at times personal, life of the wonderful people that I have met during my training and lecturing career."
Faculty:
Data Science, Economics & Finance
Bio
Cyril Demaria is a renowned international private markets expert combining in-depth practical knowledge, an entrepreneurial background with extensive academic expertise. He was formerly Partner and Head of Private Markets at Wellershoff & Partners, Head of Private Markets at the Chief Investment Office of UBS, Founder and Managing Partner of venture capital funds, and Chief Investment Officer of Tiaré Investment Management. He holds a PhD from University St Gallen, a Master in European Business Law, a Master in Geopolitics, a Bachelor in Political Sciences and he is a graduate of HEC Paris. He is the author of multiple books, his best-seller "Introduction to Private Equity, Debt and Real Assets" (Wiley, 3rd edition, 2020) is also available in French (7th edition), Portuguese, Mandarin and Spanish. He is also the author of "Asset Allocation and Private Markets" (Wiley, 2021). He is an Affiliate Professor at EDHEC and collaborates as an expert with the European Commission, Invest Europe, SECA, LPEA and France Invest.