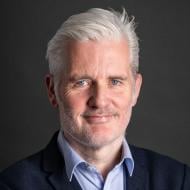 Dominic O'Kane
Professor
EDHEC-Risk Climate Impact Institute Research Director
Main contributions
Bankers, Market & Investors (2012 ; 2017), Quantitative Finance (2014 ; 2017), Journal of Derivatives (2011 ; 2016), Handbook of Fixed Income Securities, Journal of Credit Risk (2005 ; 2011), Professional Perspectives on Fixed Portfolio Management (2003), Network Computation in Neural Systems (1992), Journal of Physics (1992 ; 1993), Physical Review (1994)
Faculty:
Data Science, Economics & Finance
Expertise:
Derivative pricing, Machine learning, Risk-Management, Model design and Implementation
Bio
Dominic O'Kane is a Research Director at EDHEC-Risk Climate Impact Institute and a Professor of Finance at EDHEC Business School. His current focus is on climate metrics and the impact of climate change on investment. His previous focus was on asset pricing and financial stability in the derivatives market. He holds a PhD in Theoretical Physics from Oxford University which he followed with a post-doctoral position at Imperial College London. Prior to joining EDHEC Business School, he spent three years at Salomon Brothers and nine years at Lehman Brothers, where he became a managing director and head of quantitative research in Europe. Dominic has taught at Oxford University, Yale University and the London Business School. His research has been published in such journals as Quantitative Finance, Finance and Stochastics, and the Journal of Derivatives. He is the author of a book on the valuation and risk management of credit derivatives.
---
Publications of Dominic O'Kane