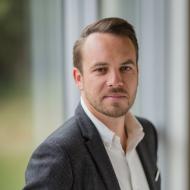 Grégoire Cauchie
Associate Professor
Main contributions
Journal of Human Capital (2016), Social Science & Medicine (2012)
Faculty:
Data Science, Economics & Finance
Expertise:
Economics of Entrepreneurship, Human Capital Theory, Applied Econometrics
Bio
Grégoire Cauchie, PhD, is Associate Professor of Economics and member of the Economics Research Centre at EDHEC Business School. He obtained a doctorate in economics from the University of Lille 1 - Sciences and Technologies in 2014. His research focuses on the economics of entrepreneurship and applied econometrics and relates to the role of the entrepreneur's human capital stock in his performance. Grégoire Cauchie has published in the Journal of Human Capital and Social Science & Medicine. 
---
Publications of Grégoire Cauchie
01.08.2016 - Article in a peer reviewed journal
New Firm Survival: Isolating the Role of Founders' Human Capital in Accounting for Firm Longevity
|
Journal of Human Capital, August 2016
---
01.06.2012 - Article in a peer reviewed journal
The role of family incomes in cigarette smoking: Evidence from French students
|
Social Science & Medicine, June 2012
---