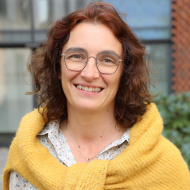 Hélène De Brebisson
Associate Professor
Main contributions
International Review of Law and Economics, Accounting, Auditing & Accountability Journal
Faculty:
Accounting, Control & Legal Affairs
Expertise:
Accounting, Corporate Finance, Harmonization
Bio
After working for ten years in companies as a consultant, manager and then financial director, Hélène de Brébisson, a graduate of HEC Paris, taught for ten years at IESEG, where she also directed an apprenticeship Master's degree. She obtained her PhD at the University of Lille (2017). Her teaching focuses on accounting issues and is aimed at students and professionals of all levels, both beginners and specialists in these subjects. Her research work, both quantitative and qualitative, focuses on the economic consequences of the harmonization of financial information. It questions the role of the legal, linguistic and cultural environment in accounting practice, and explores the place of finance in small businesses. Hélène has published notably in the International Review of Law and Economics, Comptabilité - Contrôle - Audit and the Accounting, Auditing & Accountability Journal.
---
Publications of Hélène De Brebisson