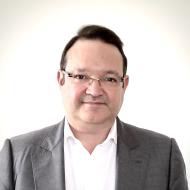 Jean-Christophe Bourgeois
Affiliate Professor
General Manager at Sony Music Publishing France
Main contributions
"Throughout my journey, I strive to defend cultural and artistic diversity, build consensus among the stakeholders within my ecosystem to develop a an increasingly fair and transparent model, and pass on my knowledge to younger generations, particularly as a teacher at EDHEC Business School since 1998."
Bio
A graduate of EDHEC Business School, Jean-Christophe Bourgeois holds the position of General Manager at Sony Music Publishing France, where he oversees the management and exploitation of the market-leading catalog, as well as the strategic growth of the company's repertoire. Throughout his career, he has signed and accompanied a multitude of internationally acclaimed artists, such as Gesaffelstein, Petit Biscuit, Yann Tiersen, M83, Zaz, Camelia Jordana, and others.<br />
In addition to his role at Sony Music Publishing, Jean-Christophe Bourgeois is actively involved in the French music industry as the President of the Tous Pour La Musique (TPLM) association. This organization unites all professional bodies within the industry and strives to promote and safeguard the interests of the music sector in France, focusing on cultural policy, financial support, and industry development.<br />
Serving as the Vice-President of the Chambre Syndicale de l'Edition Musicale (CSDEM), Jean-Christophe Bourgeois plays a key role in shaping the future of music publishing in France. He has been instrumental in negotiating and finalizing the Code of Usage and Best Practices (CDUBP), which now governs the relationships between authors and music publishers in the country.