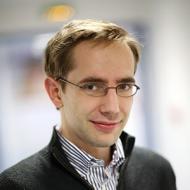 Vincent Milhau
Associate Professor
Main contributions
Journal of Fixed Income (2015 ; 2022), Journal of Pension Economics & Finance (2021), The Journal of Retirement (2020), Management Science (2018), Journal of Corporate Finance (2017), Journal of Alternative Investments (2015), Bankers, Markets and Investors (2010 ; 2012 ; 2014 ; 2015), Journal of Pension Economics and Finance (2012), Journal of Portfolio Management (2009 ; 2017 ; 2018 ; 2019 ; 2020 ; 2021; 2023), Banque & Stratégie (2009)
Faculty:
Data Science, Economics & Finance
Expertise:
Portfolio construction; Asset pricing; Continuous-time finance
Bio
Vincent Milhau is an associate professor of finance at EDHEC Business School. Before joining EDHEC Faculty in 2023, he was a research director at EDHEC-Risk Institute (now EDHEC-Risk Climate Impact Institute), where he was responsible for several research projects conducted at the Institute and funded by big industry players interested in the latest advances in risk management and asset allocation. Vincent's main research interests are in asset pricing and optimal portfolio choice and their applications to institutional and individual money management, especially retirement investing. His teaching is largely based on this research.
---
Publications of Vincent Milhau