Grande Ecole
Master
Executive Education
MBA
Entrepreneuriat
EDHEC Giving
Foresight, Innovation and Transformation » Chair
|
[Webinar] Finding opportunity in crisis, René Rohrbeck, FIT Chair
The EDHEC Chair for Foresight, Innovation and Transformation (FIT Chair) is pleased to invite you to a webinar about the way to find opportunity in crisis on 16 April 2020 at 3.00 pm. This event aims…
Image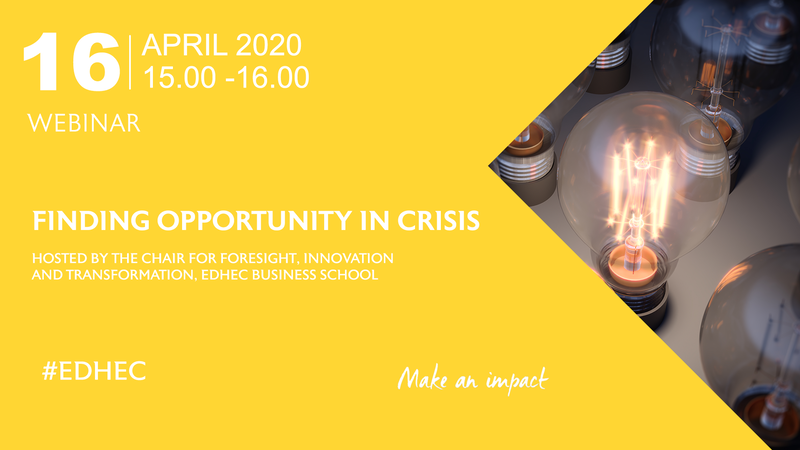 The EDHEC Chair for Foresight, Innovation and Transformation (FIT Chair) is pleased to invite you to a webinar about the way to find opportunity in crisis on 16 April 2020 at 3.00 pm. This event aims at empowering managers to adapt their approach to making long-term choices during crisis.
When faced with threats, we tend to move to survival mode. Yet, this short-term bias can prevent us from finding opportunities to thrive under pressure. Join this virtual session and learn how you can boost your and your team's ability to make sense of unpredictable, volatile circumstances and make choices that will position you for success over time. 
The webinar will be hosted by René Rohrbeck, Director of the EDHEC FIT Chair, and Camelia Ram, Research Affiliate at the EDHEC FIT Chair. In addition to experts sessions, the event will include the interview of a business leader applying scenario thinking techniques.
PROGRAMME
15.00 Objectives and agenda
15.05 Making strategic choices in crisis
15.10 Four-step logic to finding opportunity in crisis
15.20 Interview with a leader on how they are applying scenario thinking techniques
15.30 Q&A
16.00 End the webinar
Tool kit & Video
If you are finding your business disrupted by the current crisis you need to respond to the operational crisis, but you should also direct sufficient attention to structural changes that might affect your industry and markets.
René Rohrbeck, Director of the EDHEC FIT Chair explains: "Many organizations that we talk to struggle to see the current crisis as more than a temporal disruption to their business. It is however now that the foundation for a successful reemergence after the crisis needs to be build. Scenario thinking is the most effective way to zoom out, get on a higher vantage point and spot opportunities that other have not yet seen."
The EDHEC Chair for Foresight, Innovation and Transformation has developed a 4-step toolkit which will help you to prepare and profit from structural change in your industry. You can download the toolkit here free of charge.
To understand how to apply the toolkit you can also read the example of a restaurant owner and a description of the four steps.