4 Tips to Help You Write an MBA Application Essay That Wows Admissions
You have done your research, looked into various programmes, and after analysing the costs and benefits of going back to school and then finally you've decided to apply to an MBA programme which fits your goals perfectly. Which means it is the time to start your MBA application.
Reading time :
26 Jan 2021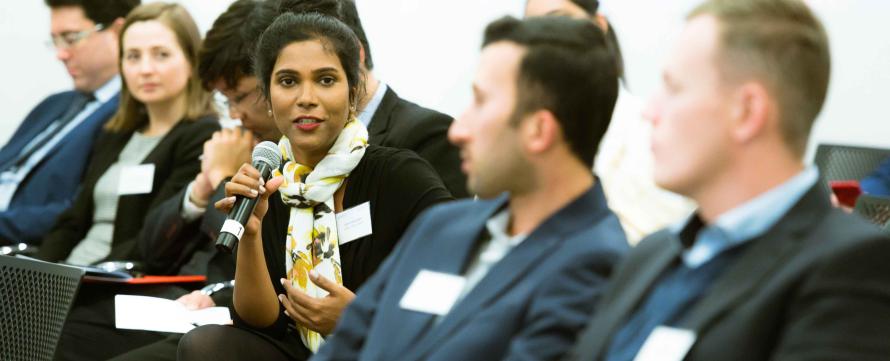 One of the common causes of anxiety when applying and enrolling in executive education is the application itself. Applications are designed to provide a thorough and in-depth perspective on your professional and academic career and crucially show your personality and your strengths. The process is extensive and thorough because it is vital that you are a good fit for the school and that the programme matches your needs.
Typically to complete your application you will need to provide letters of recommendation, do face-to-face or online interviews and provide your GMAT/GRE/Tage Mage scores and English proficiency results. There is also another element which most MBA programmes ask for, including EDHEC: MBA essays.
Nearly every MBA application process requests some form of written assignment about yourself — and having to concisely and eloquently express your past experience and future career objectives can be challenging. Usually you will be given one or two essay questions by your admissions manager. This is the chance for you to truly stand-out and demonstrate why you will be a great fit for a programme. It can also be a little daunting for some people, especially if you are not used to writing personal essays.
Here at EDHEC, we want the MBA application process to be as smooth as possible, which is why we've compiled these guidelines on how to write an effective and impactful application essay to make your applications stand out.
Be specific
A key element to your MBA application is identifying and honing in on your individual strengths. Admissions teams are looking to see your dynamic, unique offerings as an applicant, and appreciate a candidate who has a distinct or specialised perspective. The cultural and professional diversity of the student body is central to the EDHEC Global MBA programme.
"What we're really focusing on when reviewing the MBA essays is understanding what makes the applicant unique in terms of both current experience and future goals," Spencer Hamilton, Head of Careers and Corporate Services for the Global MBA, says. " Statements such as "I'm adaptable" and "I'm quick to learn" are very generic and not that memorable. Whereas, "I've got operations expertise in Cameroon and would like to do something in the West African market," is something that's far more interesting and memorable."
Stay away from generic comments and communicate the things which make you stand out as both an MBA candidate and a human being - we want to see your personality, values and ambitions. Every candidate has something unique they can bring to the table. If you are unclear on what yours may be, consider enlisting the help of a friend, a trusted co-worker, or even an employer to help you identify your strengths.
Show the Admissions Team why they should pick you
Standard statements such as "I believe I am an ideal fit for this school," don't convince the admissions committee on why they should select you over other candidates unless you follow this statement with a clear, programme-specific reason. Do the research on each school's specific values and mission, the programme itself, and the type of candidates they are looking for.
Once you are well-informed, tailor your application essay(s) to personally address how your objectives align with the school's goals. Let your passion shine through your writing; integrate why you are inspired to pursue an MBA, and how this specific programme will allow you to reach your ambitions.
Highlighting your unique professional expertise and tying it in with the MBA programme is a key element in a successful application essay.
In fact, EDHEC's Head of International MBAs Admissions, Aude Theobold, says that she especially appreciates the wide variety of profiles that apply.
"We do welcome diversity. We speak with lawyers, doctors, engineers, and entrepreneurs, as well as candidates who come from a more corporate business background," Theobold says. "We thoroughly enjoy having a wide range of profiles within our programmes, because they share different perspectives on the professional environment, and can add depth and insight to each class."
Use real-life examples
Whether you are looking to completely change sectors or are seeking to grow in your current professional path, your past academic and professional experience are an essential part of your candidate profile.
Similar to a cover letter, highlight how your primary professional experiences are applicable to the MBA programme you are applying to. Utilise particular work projects, workshops, or even volunteer programmes to demonstrate how you actively employ your skills and strengths.
By giving concrete examples of your work experience, you are demonstrating that you have actually had the opportunity to build and develop the skills and characteristics you are identifying in your application.
Follow the rules
It seems like an obvious part of the application process, but without taking the time to review your application essay before submitting, it is easy to make a mistake which could damage your image and reduce your chances of success.
Before you send in your completed application, re-read both the prompt instructions and your essay to make sure you have properly answered all of the questions or requirements proposed by the admissions committee. Verify that you are within the word limit and that you have abided by all of the requested formatting guidelines.
Most importantly, if you are applying to multiple programmes, make sure that you are submitting the right essay to the correct MBA programme. EDHEC guides candidates through all parts of the Global MBA admissions process — click here to find out more about our application and admissions requirements.
Are you ready to transform your career?
Download the brochure to find out how the EDHEC Global MBA will give you the tools, knowledge and confidence you need to accelerate your international career