BBA Global Business track students have arrived in Singapore
Our Bachelor of Business Administration students have arrived in Singapore! These BBA Global Business track students just came back from one year of studies at UCLA in Los Angeles and a six-month…
Reading time :
14 Jan 2020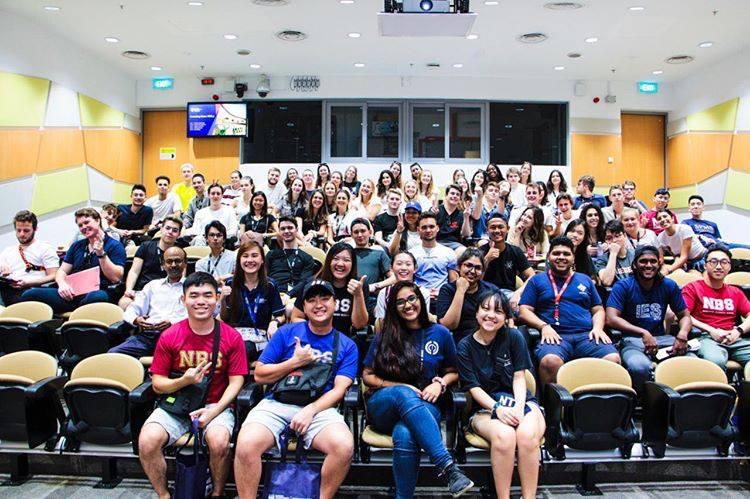 Our Bachelor of Business Administration students have arrived in Singapore! These BBA Global Business track students just came back from one year of studies at UCLA in Los Angeles and a six-month internship abroad. In 2020, they start a new academic year at Nanyang Technological University. This exclusive partnership between EDHEC and NTU is specifically designed for our undergraduate students and will grant them a certificate in International Management from the top-ranked Asian university.
On Friday, January 10th, the EDHEC and NTU staff welcomed the new cohort at EDHEC Business School's headquarters in Singapore. The students received practical information about the life in Singapore by EDHEC's country manager Joyce Cuff and Global Business track director Angelo Bisignano. On Day 2, students met with NTU's staff members and professors. They also took part in an orientation game around campus to get familiar with the different buildings.
At Nanyang Technological University, students will learn about the specifics of the Asian market. They will be taking classes such as:
Investment analysis and portfolio management
Cultural intelligence: How to be an explorer of the world
International Finance
Digital Marketing
These courses are taught by highly qualified professors. "Our professors have an incredible background, and it is an honour to learn from their expertise," says Joanna Adriano, Class of 2020 EDHEC International BBA student. "My professor in International Finance is Dr Siriwan Chutikamoltham. She holds a doctorate in Business Administration from the Harvard Business School, an MS in Applied Economics from the University of Minnesota and a B.Sc in Economics from Chulalongkorn University in Bangkok, Thailand. She is also the CEO of Golden Land Properties - a real estate company."
About EDHEC International BBA
Taught entirely in English, the Global Business Track is designed for students seeking a highly international academic training that enables to gain an understanding of the challenges of globalisation and to prepare for an international career. Periods of classroom-based learning in a multi-cultural environment are combined with extended internships.
Year 1 is spent at EDHEC in Nice, and subsequently, students attend UCLA Extension in Los Angeles (Year 2), and Nanyang Technological University in Singapore (Year 3&4). In addition to their EDHEC International BBA degree, students gain genuine intercultural exposure on three world-class campuses and obtain certificates from the host institutions.
Learn more: bba.edhec.edu/en/tracks/global-business