|
EDHEC
|
Institutionnal
Programmes
Bloomberg Businessweek Best B-Schools ranks EDHEC's Global MBA in the top 15 in Europe
Bloomberg Businessweek has just released its latest ranking of Best B-Schools Europe 2023-2024 and EDHEC's Global MBA has been recognised once again as one of the top 15 best programmes in Europe. This latest ranking highlights the success of EDHEC's Global MBA on key elements of the programme : the intensive and highly individual 10-month programme is among the top 10 in Europe for entrepreneurship and networking. EDHEC has gained 7 places on Entrepreneurship (n°6) and 12 on Networking (n°9).
Reading time :
14 Sep 2023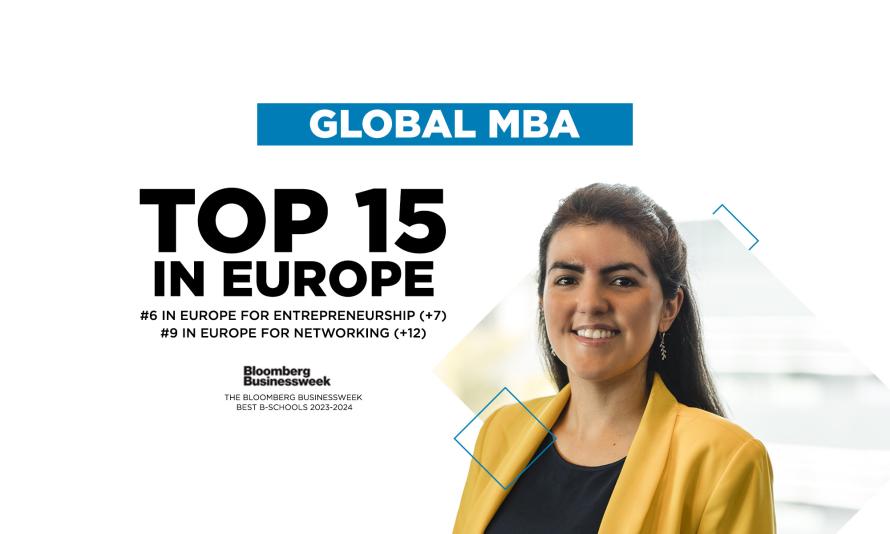 Bloomberg Businessweek "relies on graduating students, recent alumni, and companies that recruit MBAs to measure and comment on the programmes ranked. Those stakeholders respond to questions about everything from jobs to salaries, classroom learning to alumni networks; their answers form the heart of this ranking." Bloomberg ranked 110 business schools around the world. 
Top 10 for Entrepreneurship & Networking in Europe
 
The Networking index "gauges the quality of networks cultivated by classmates; students' interactions with alumni; effectiveness of the career services office; quality and breadth of alumni-to-alumni interactions; and the school's brand power, according to recruiters." The Entrepreneurship index measures student and alumni feedback on whether their school took entrepreneurship as seriously as other career paths and rate the quality of training they received to start a small business or startup. Recruiters rate schools according to whether graduates show exceptional entrepreneurial skills and drive."
Because it is essential for professionals to finetune their ambitions, identify their strengths and USPs, gain insights from various industries, and connect with some of the world's leading brands, the students benefit from CareerSMART, a ground-breaking career development programme. "Our career programme is tailored to each student's needs. Each student is unique. CareerSMART gives them maximum exposure to different industries and roles and develop the skills and insights you will need to evolve, transform, and succeed", explains Spencer Hamilton, Global MBA Head of Careers and Corporate Services. CareerSMART is part of the Lead360 leadership development programme combining a range of advanced tools, assessments and courses with personalised workshops, tailored guidance and coaching to prepare MBAs for their next leadership role.
When it comes to Entrepreneurship, EDHEC's Global MBA provides a wealth of opportunities. A partner of Plug & Play Tech Center and of the TechForward EDHEC incubator in Sophia Antipolis, the programme offers a one-month specialisation track in Intra/Entrepreneurship. The students can also choose to do a business plan as their tailored MBA project. "We are the only French school who partners with Plug & Play Tech Center Venture Capital, this allows a team of 4 MBAs per year to be selected as Plug & Play Investment Analysts. They learn how to value new ventures and challenge founders on their business models. These are valuable insights for future founders and future investors", says Sandra RIchez, EDHEC's Global MBA Director. From the beginning of the year, entrepreneurs or potential entrepreneurs also benefit from personalised coaching with experienced entrepreneurs, often business angels or serial entrepreneurs themselves. The track includes aa study trip to an entrepreneurial capital (Berlin in 2023). Finally, MBAs, like all EDHEC alumni can benefit from a year of incubation at Station F or Tech Forward, and can apply for Berkeley's Sky Deck in San Francisco, which is an EDHEC partner institution.
"We have been reinforcing our career services for several years now for the greater benefit of our students. The Bloomberg Businessweek Best B-Schools ranking highlights on networking and entrepreneurship reward the impact of our unique and tailored approach", concludes Sandra Richez.