Boost your career with a tailor-made consulting project
To complete their learning journey, participants to EDHEC's Executive MBA in Lille and Paris carry out an individual consulting project concurrently with the last months of the programme.
Reading time :
23 Jun 2021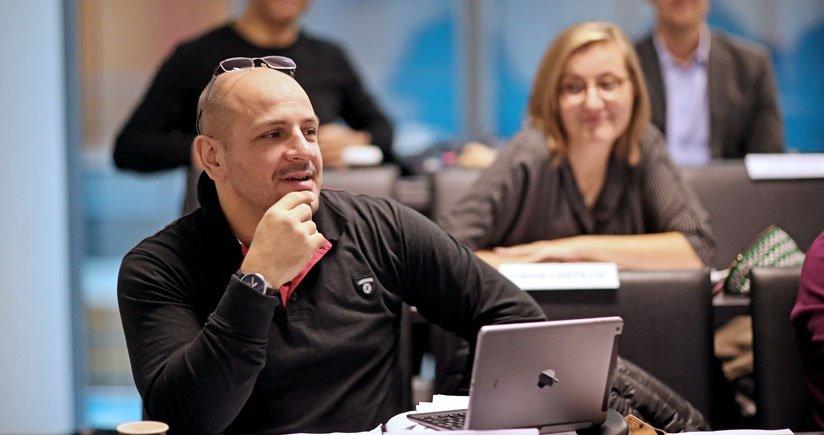 To complete their programme, participants to EDHEC's Executive MBA in Lille and Paris carry out an individual consulting project. This strategic work enables these managers and entrepreneurs to enhance and apply what they have learnt at EDHEC, all the while preparing for the next step of their professional life.
For this project, participants must formulate a strategic recommendation in response to a real issue submitted by a partner company: an entry into a new market, a business model change or a digital transformation issue. Each chooses a subject in line with their professional project:
"The Consulting Project is not purely academic," explains Denis Dauchy, PhD, EMBA profeossor and former EMBA programme director. "It is rooted in the reality of business and of the participants' careers".
Just like for any actual consulting mission, participants begin by making a diagnosis, then develop a global strategic vision before formulating practical recommendations. A transdisciplinary exercise that mobilizes all the fields explored during the EMBA program: strategy of course, but also marketing or finance. EDHEC professors support them all along the way. To give advice, but not only:
"We are also here to challenge them, to push them to see further", specifies Denis Dauchy.
At the end of the year, besides the formulation of a written recommendation, participants defend their strategy before jury incl. an EDHEC professor and a representative from the partner company.
A springboard to post-EMBA career paths
Most participants work on a subject submitted by their current employer (Auchan, Dell, L'Oréal…) who, in return, can finance part of their training. Others seize this opportunity to develop a start-up project. Such is the case of Frédérick Wallart, an engineer by training for whom the EMBA marks a turning point towards entrepreneurship, after twenty years of industrial experience. For his Consulting Project, he wrote the full business plan for Tispego, his consulting firm project specializing in "security culture":
"This consulting mission is like tying one's shoes before the real race, the one that starts just after!"
As for Etienne Thépenier, he developed his own technical software publishing start-up, Metalfox, and refined his entrepreneurial profile:
"The Consulting Project made me realize how essential it is for a manager or entrepreneur to be open to the opinion of others and to take a step back from time to time, to make sure you are staying on course."
A true springboard to their post-EMBA plans, this project completes the training and reinforces the participants in their choices of professional development, whether it is within their current company or in an entrepreneurial perspective.