CareerSMART Week : Time to step up in your career
Many candidates do an MBA to facilitate a career transition, and EDHEC's Global MBA participants are no exception. Candidates often choose EDHEC thanks to a robust program called CareerSMART,…
Reading time :
26 Jan 2021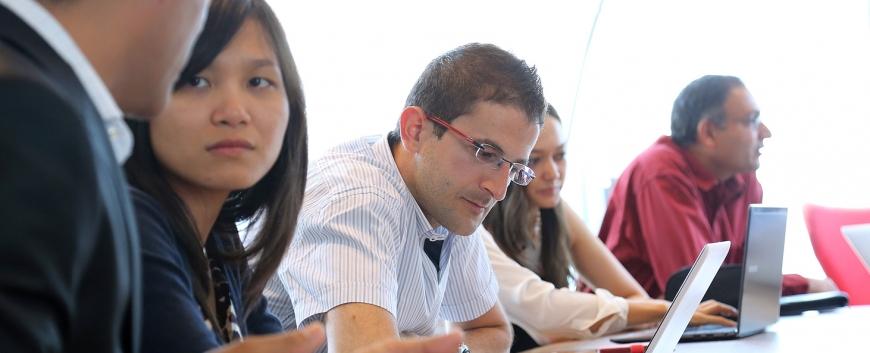 Many candidates do an MBA to facilitate a career transition, and EDHEC's Global MBA participants are no exception. Candidates often choose EDHEC thanks to a robust program called CareerSMART, developed to accompany and challenge students as they design their careers and ramp-up for a global job search. October 9th will be the start of 2017 CareerSMART Days. EDHEC Global MBA students have been preparing for the week well in advance and have already completed online courses in CV Writing, Leveraging LinkedIn, workshops in Finance and Consulting careers, as well as online psychometric tests to get them ready for the recruitment season. *
CareerSMART Days will see them attend a workshop on Career Design and Job Search by the renowned career expert Daniel Porot, workshops in networking, job search, cover letters, salary negotiation and using online resources. A highlight of the week are career assessments where students will put interviewing, teamwork and presentation skills to the test. Students will have their first personal career coaching meeting with a specialised career coach in areas like finance, consulting, entrepreneurship, sales and marketing, technology, supply chain and services as well as generalist coaching on career readiness. The week ends with student-led round-tables for Alumni Career Day with EDHEC Global MBA alumni from a broad range of sectors, countries and functions, who are on-hand to share their career success stories, but also give advice on how current students can get the most from their MBA program. The week ends with a networking cocktail to make connections and build links for future career discussions. 
For Cécile Benchetrit, who handles EDHEC Global MBA Corporate Relations, "CareerSMART Days are a great way for me to spot talent and get a good feeling for what our students are seeking early on in the year. I take this information to help talent source the right candidates for our corporate partners and to reach out to firms for whom we have a good talent pool. The Alumni Career Day is particularly important because it gives students a deeper look into alumni career stories, allowing them to model their own careers and prepare for success."