Celebrating Our 2019, 2020 and 2021 Graduates
EDHEC celebrated the achievements of students with a number of exciting graduation ceremonies in March. This year, the school grouped together graduates of 2019, 2020 and 2021, making these the…
Reading time :
4 May 2022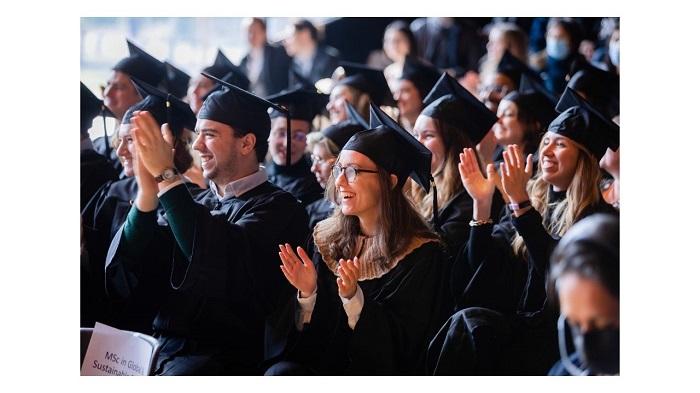 EDHEC celebrated the achievements of students with a number of exciting graduation ceremonies in March. This year, the school grouped together graduates of 2019, 2020 and 2021, making these the biggest graduation events EDHEC has ever held. EDHEC honoured Lille's International BBA, Master and Masters 2 graduates. More than 2,800 students were celebrated over the series of ceremonies, with more than 4,400 guests enjoying this massive celebration of achievement, which also included the majors and student engagement awards.
A chance to meet again
Students, faculty, parents, and speakers alike were delighted by these in-person and remote streamed events to celebrate the achievements of three cohorts that have faced more challenges than most. After two years of restrictions, these festive occasions were a welcome opportunity to honour their hard work and perseverance. Plus, since many of the graduates, in particular those who left in 2019 and 2020, are already in the workplace, this return to their alma mater was a unique chance to connect with old friends and valued mentors.
Wise words and advice
Among the many speeches given, that of Emmanuel Métais, Dean of EDHEC Business School, was a particular high point. The Dean drew parallels between the day's honored graduates and the oldest living EDHEC graduate, Jacques Carpentier, who is now 103 years old. Acknowledging both the challenges of the past and the difficulties we currently face, he praised the resilience, adaptation, innovation and solidarity demonstrated by students, their families and the school staff and community. Citing climate change, the war in Ukraine and, of course, the recent pandemic, Emmanuel Métais reminded the graduates present that we all look to their generation to help build a better world.
EDHEC Chairman and CEO of Tikehau IM, Bruno de Pampelonne, presented his congratulations to students via a live video link-up. He offered the day's stars some advice, quoting everyone from Steve Jobs and Oscar Wilde to Pierre Giorgini and Galileo, including: "Time has accelerated significantly … and tomorrow is just around the corner. Do not waste your precious time; be insatiable." He concluded by wishing all the graduates "not just success in their professional lives and happiness in their personal lives but also success in their personal lives and happiness in their professional lives."
This event was also the occasion to present the EDHEC Student Engagement Awards, which celebrate students' personal qualities and their exceptional contribution in line with the EDHEC values of innovation, impact and engagement.
In person and online
The in-person ceremonies were live-streamed on the EDHEC YouTube channel for those who could not make it and can now be viewed in replay.
Preview of the Masters ceremonies
Replays
---
---
Graduation ceremonies for Lille AMP graduates will take place on Friday, May 13, with Lille's CSM and EMBA graduates following on Friday, May 20. Nice's Global MBA graduates will be receiving their diplomas on Saturday, 4 June, followed by Nice's BBA graduates on Saturday, 18 June.