Climate change and finance are intertwined
EDHEC Business School has a solid reputation in the field of finance. The school also has faculty members with physics backgrounds, which makes them valuable contributors to the debate on climate change. MSc in Climate Change & Sustainable Finance Professor Riccardo Rebonato, an asset-pricing specialist and one of those faculty members with a PhD in physics, explains how climate change and finance are intertwined.
Reading time :
23 Mar 2021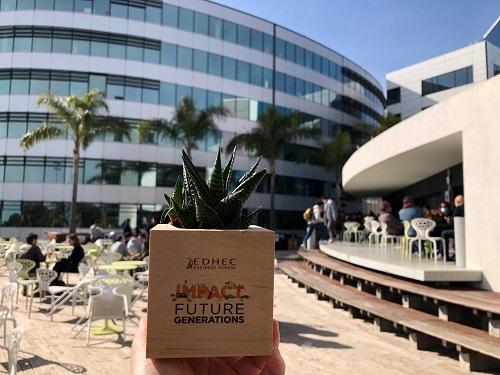 You say that climate change and finance are intertwined. Can you explain how and why?
When it comes to climate change, everything is intertwined and connected. Science, technology, economics and finance cannot and must not be looked at in isolation. Finance can play a very important role in providing suitable for enacting optimal policies and economic analysis. Economic analysis, in turn, requires a scientific understanding of state-of-the-art climate modelling so that everything is linked together.
The solutions can't come from finance itself and the solutions can't come without finance. All the pieces of the puzzle are all locked together and must be pieced together to come up with a practical solution. It is clear that to tackle climate change in a decisive manner, we will have to conduct a major redirection of resources from all areas of economic activity. This is not going to be a small undertaking, and this raises the question of how we are going to finance it. Finance can provide efficient ways in which to finance the required initiatives and can come from the private or the public sector. There is another important element: finance can exert pressure, to the extent that asset managers can decide to direct their investment to industries, sectors, and groups that are climate change compliant or in favour of controlling climate change. Finance must help find the most efficient ways of financing these major efforts with innovative initiatives, collaboration between private and public sector, etc. 
How is EDHEC contributing to the debate and research on climate change and sustainable finance? 
EDHEC and the EDHEC-Risk Institute, in particular, have an established reputation in the financial domain. But some of EDHEC's faculty members, such as Lionel Martellini and myself,
also have a strong physics background. The different disciplines – physics, economics, technology, and finance – are so intertwined that it is a huge bonus to having faculty members with PhDs in physics, nuclear engineering, and finance. Together, we can make an informed contribution to the debate. For instance, I have a PhD in science materials and a doctorate in nuclear engineering and I'm a professor of finance. I can, therefore, provide a comprehensive view on two important elements of the climate change spectrum, but also pool my skills with those of my colleagues to gain a 360°-degree view. To give you an example,
my financial specialty in asset pricing and my physics background allow me to work with integrated asset models to establish a link between the physics of climate change and the impact on asset prices and the return on assets.
Can you tell us more about integrated assessment models? What are they and how are they useful?
Integrated assessment models (IAMs), of which the DICE model developed by Nobel Laureate William Nordhaus is probably the best known, are ambitious attempts to model the physics, technology, and economics of climate change. Of necessity, they have to make sweeping assumptions, but they provide a solid framework for looking coherently at climate change in its intertwined aspects. They are not perfect, of course, but they at least clarify where policy conclusions come from. Also, they lend themselves to sensitivity analysis, which helps to identify what the really important input parameters are. The next step is to establish a link to asset pricing in an IAM. This would move their relevance from the policy to the investment domain. The EDHEC-Risk Institute is actively involved in such efforts.
Discover the MSc in Climate Change & Sustainable Finance