CREATION OF AN EDTECH MOOC: EDHEC AND SUPERCHARGER ARE SHAPING THE FUTURE OF LEARNING
EDHEC Business School has announced the launch of the first global MOOC (Massive Open Online Course) focusing on EdTech*, developed in partnership with SuperCharger Ventures, a Singapore-based EdTech…
Reading time :
4 May 2022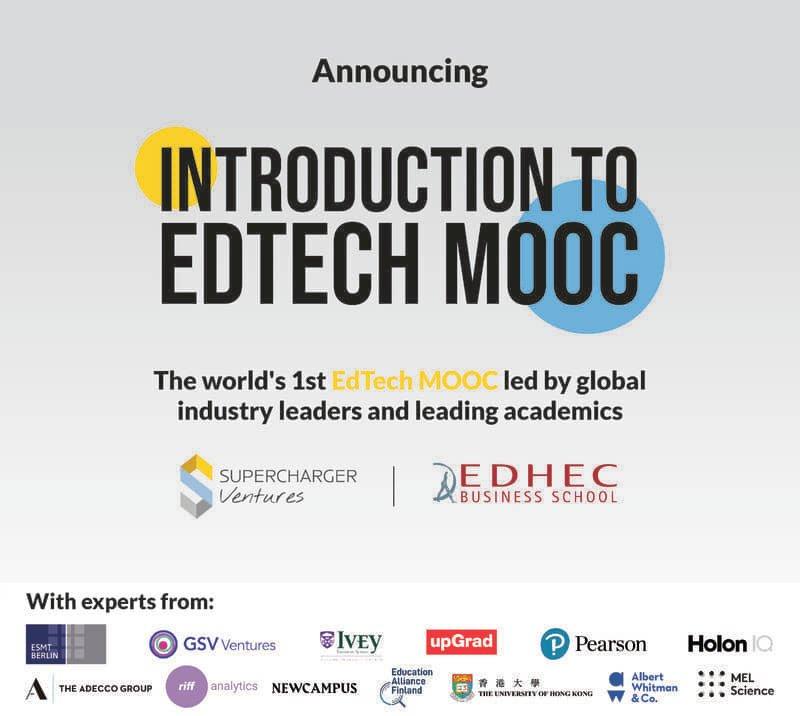 EDHEC Business School has announced the launch of the first global MOOC (Massive Open Online Course) focusing on EdTech*, developed in partnership with SuperCharger Ventures, a Singapore-based EdTech startup incubator and partner of the FOME Alliance (see below).
The MOOC is available on Coursera, the leading global platform for online learning. It aims to give students a comprehensive understanding of EdTech, through four modules that address the transmission of knowledge using digital technology and artificial intelligence. Each module includes lectures by global experts in the sector, who share their real-life experience and perspectives to enhance the course content.
The aim is for the programme to become a leading resource for private and public-sector professionals, educators, and all those with an interest in EdTech as they face the need to harness digital technology to drive skills development.
This MOOC with its leading-edge content aligns seamlessly with EDHEC's partnership with the FOME Alliance – a group of prestigious higher education institutions whose purpose is to develop the potential of online education –  particularly as regards the augmented learning experience. It channels an innovative vision for education driven by EDHEC, whereby data is leveraged to develop flexible, individualised learning pathways.
*EdTech, short for educational technology, comprises an array of tech-driven solutions developed by startups intent on re-thinking how learning works and disrupting education and training.
The MOOC : "Introduction to EdTech"