Data Viz Discussions: How data visualisation can make a profound impact on business
As a former Tableau Zen master and leading expert in data viz, Yvan Fornes has harnessed the power of data visualisation to provide critical business intelligence and insights throughout his career…
Reading time :
7 Apr 2022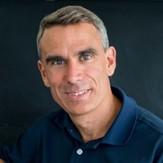 As a former Tableau Zen master and leading expert in data viz, Yvan Fornes has harnessed the power of data visualisation to provide critical business intelligence and insights throughout his career. Today he is Business Intelligence Senior Manager, Security and Loss Prevention for Amazon EMEA and also shares his expertise with managers and future managers as a lecturer in data visualisation at EDHEC including the Global MBA.
In this edition of Data Viz Discussions, we asked Yvan to share with us an example of how data visualisation can support organsations in making key commercial decisions. Here is Yvan's data viz story:
---
A few years ago, I worked at Air France in the Revenue Management department. The objective of this activity is to set the right price, for the right customer, at the right time. This activity can contribute to a revenue increase from 5 to 7%.
We were 92 flight analysts to revenue optimized more than 1170 flights during the period they can be booked before departure, so one year. That means that more than 400 000 flight dates had to be monitored. To do so we used a Revenue Management system that was helping us to rank the flights by priority and it was also recommending how those flights should be set. Setting a flight means determining how many seats should be allocated by booking classes, each booking class representing a price range.
The flight analysts are the ones deciding at the end how the flights should be set. They can override the system recommendations, as they have to integrate additional information that the historical data does not include. It can be a special event, like an international conference, a crisis, or a new competitor.  A flight can generate revenue that is higher than 1M Eur, the analyst work is supposed to increase this revenue by 5-7 %, but if he takes the wrong decisions the revenue can be decreased by more than 10%. That means that the analyst has a big responsibility that has to be monitored.
To monitor the analyst work, 2 main KPIs (Key Performance Indicator) were used:
The average load factor (% of seats sold) of the flights for which the lowest booking class (lowest prices) has been rejected more than 5 times. This KPI so-called "the close load factor", has been created to make sure that a flight does not take off not full while some customers have been turned away. In the end, this indicator spots flights that were sold too expensive to travelers.
The second KPI is the number of days a flight was sold out before departure. As the customers willing to pay the highest prices are the ones booking at the last minute, you do not want to have your flights closed too early before departure. This KPI was made to spot flights that were sold too cheap to travelers.
The problem that I raised was that these 2 KPIs were spotting only extreme situations, the flights that were way too cheap (sold out many days) and the flights that were way too expensive (take off not full, when some customer were turned away). Those two KPIs were not reporting the full reality of the market. They did not detect most of the lost revenue opportunities, because, for example, we could have sold the third most expensive booking class instead of the second most expensive booking class.
The revenue Management system was using a demand calculator to compute its recommendations. This demand was generated by a tool that the analysts were in charge to influence. One day I was working on this demand and I had the idea to use it to determine what would be the optimal number of bookings to accept by price range (booking class). I asked my management if I could work on this approach, then I contacted our IT department to have access to the data needed, and I started working on it.
The demand is calculated for each flight date, each booking class, after the flight departure. We call this demand the unconstraint demand, which means the number of customers that would have been willing to book if the flight would have an unlimited number of seats. I used this demand to determine what would have been the ideal number of bookings that should have been accepted by booking class to have the highest revenue. Then I could compare this optimal booking mix with what the analyst accepted. This way the full revenue opportunities could be highlighted.
Then I visualized those revenue opportunities on a heatmap, that was allowing us very quickly to know on which period, on which flight, and on which booking classes, we could do better next time.
I showed my report for my flights to my management, they liked it and I was authorized to industrialize my prototype for all the 92 flight analysts. That means that data analytics and data visualisation influenced the way the 1170 daily Air France flights were priced and monitored.
https://www.linkedin.com/in/yvanfornes/
http://public.tableau.com/profile/yvan.fornes#!/
---
Mazaars, Tableau, EDHEC Business School and UNICEF are the official partners of the European Student Data Viz Challenge, an annual pan-European competition designed to promote the importance of data visualisation, encourage the development of data-based decision-making in future managers and support UNICEF mission. The challenge is open for entries from the 14th March and closes on the 1st May 2022. Click here to find out more information about the Student Dataviz Challenge