THE DATES OF UPCOMING CELEBRATIONS
EDHEC will organise the celebration of the students of the 2021/2022 graduating class. These are emotional moments where we wish to celebrate the success of the different classes. The students will…
Reading time :
8 Sep 2022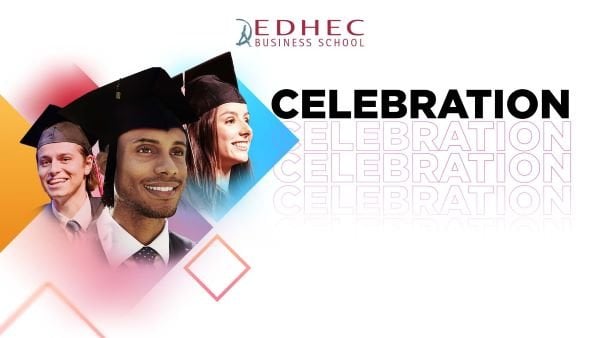 EDHEC will organise the celebration of the students of the 2021/2022 graduating class.
These are emotional moments where we wish to celebrate the success of the different classes. The students will be surrounded by their professors, parents and friends to celebrate the end of their studies.
In Lille:
Friday 14 October at 2:00pm, in the Crédit Mutuel Nord Europe auditorium, Lille campus – MSc and BSc online
Friday 14 October at 6:30pm, in the ceremonial tent – EDHEC International BBA
Saturday 15 October, ceremonial tent:

Masters 1 session at 10:00am with MSc in Corporate Finance and Banking, MSc in Finance, MSc in Financial Markets, MSc in International Accounting and Finance, MSc in Risk and Finance, MSc in Climate Change and Sustainable Finance, European and Apprenticeship Track, Global Economic Transformation and Technology (GETT)
Masters 2 session at 4:00pm with MSc in Creative Business, MSc in Data Analysis and Artificial Intelligence, MSc in Entrepreneurship, MSc in Global and Sustainable Business, LL.M. in Law and Tax Management, MSc in Marketing Management, MSc in Management Studies, MSc in Strategy, Organisation and Consulting, Outgoing
In Nice:
Friday 30 September at 6:00pm, Nice campus – Programme Manager Online
Saturday 5 November at 10:00am, Nice Acropolis, EDHEC International BBA
The ceremonies will be broadcast live on EDHEC's YouTube channel, for those who cannot attend.
We look forward to celebrating all our students!