Breaking news
Replay / Webinar
|
EDHEC
|
(EDHEC ALI) Take part in the webinar presenting the survey on the agility of legal departments
Reading time :
8 Jun 2023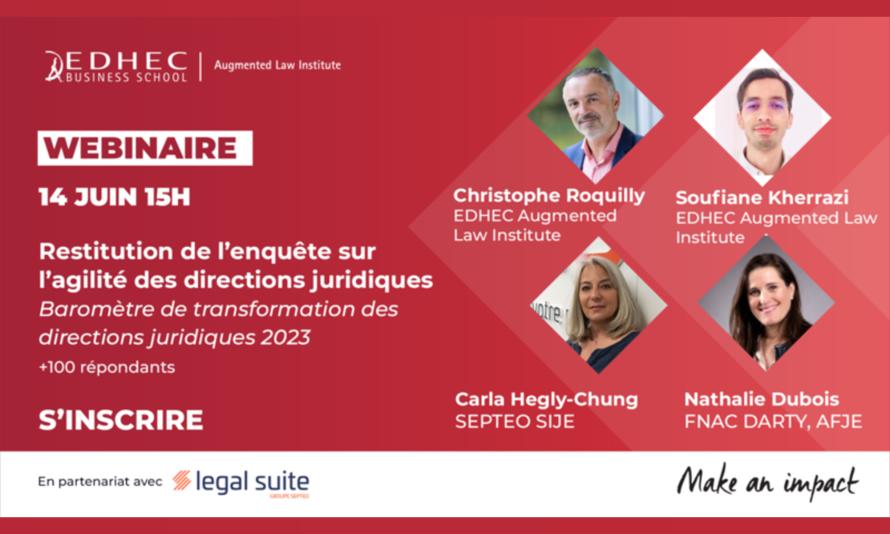 Webinar
Feedback from the survey on the agility of legal departments - Barometer of legal department transformation 2023
As this webinar is held entirely in French, the information presented below are in the same language.
Découvrez les résultats de l'enquête sur l'agilité juridique réalisée par l'EDHEC Augmented Law Institute en collaboration avec l'Association Française des Juristes d'Entreprise et le Cercle Montesquieu. Cette étude approfondie a été menée auprès de 150 juristes et directions juridiques, avec la participation de grandes entreprises telles que Sopra Steria, Ubisoft, Bolloré, Air France et Dassault Systèmes.
Rejoignez-nous le 14 juin à 15h00 pour assister à la restitution des résultats lors d'un webinaire organisé en partenariat avec Septeo Legal Suite. Un panel d'experts analysera les conclusions et partagera les meilleures pratiques issues de cette étude.
L'enquête met en lumière des éléments clés, tels que le recensement des dimensions clés de l'agilité dans les directions juridiques, la conception d'un index scientifique de l'agilité juridique (ICAJ) ainsi que le benchmark et la performance des directions juridiques d'entreprises françaises sur l'ICAJ. De plus, elle identifie les meilleures pratiques en matière d'agilité au sein des directions juridiques.
Cet événement marque également le lancement du Baromètre annuel de transformation des directions juridiques, initié par l'EDHEC Augmented Law Institute. Ce baromètre vise à mesurer chaque année le niveau de transformation des organisations juridiques, en se concentrant sur des leviers de création de valeur tels que l'innovation, l'agilité, la digitalisation, l'intelligence collective et la responsabilité sociale des entreprises (RSE).
Intervenants :
Ne manquez pas cette opportunité de découvrir les dernières tendances en matière de transformation des directions juridiques. Inscrivez-vous dès maintenant pour réserver votre place au webinaire.