EDHEC Alumni Reflects on Financial Times' Top 100 EMBA Programme
EDHEC is proud to announce that its Executive MBA programme was ranked in the Top 100 EMBA programmes worldwide by the Financial Times. This marks the third year in a row that our prestigious,…
Reading time :
18 Nov 2019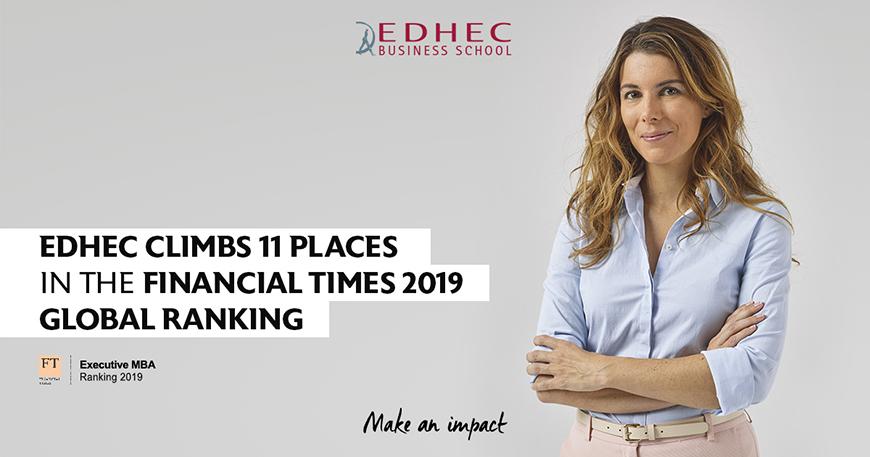 EDHEC is proud to announce that its Executive MBA programme was ranked in the Top 100 EMBA programmes worldwide by the Financial Times. This marks the third year in a row that our prestigious, executive-level programme has ascended the Financial Times' rankings, being awarded 69th place overall this year.
EDHEC's Executive MBA is a part-time, 16-month programme that takes a three-pronged approach. It focusses on enhancing skills and perspectives, improving professional and personal development, and providing insights into the challenges of leading in an age of digitisation & globalisation. 
Renaud Vanrysselberghe, EMBA alumni from the class of 2017, is now the Director of Global Services at SCOTT Automation & Robotics. Here, he shares his EDHEC experience from why he decided to pursue an EMBA, the highlights of the programme and how it helped him, personally and professionally.
Why did you decide to do an MBA?
I chose to do an EMBA at EDHEC because I had a background that was technical and I wanted to go further in my career by gaining an overall understanding of a business and all the key functions.
Tell us about your experience?
What I liked most was the content of each of the courses, which were really interesting and enriching plus the experience itself with all of the participants was very rewarding.
What was the highlight of the programme for you?
For me, the highlight was being able to question and challenge everything during the programme which meant I could refocus on myself and my goals.
How did the EMBA make an impact on your career?
The professional impact for me was a breakthrough in my career. Since completing the EMBA, I have progressed and evolved and am now in a position with international responsibility, which is immensely satisfying.
And finally, 3 words to describe your EDHEC experience…
My experience EDHEC in three words: exigence, fun and perfect!
The average EDHEC EMBA candidate has 14,5 years of working experience, but the programme broadens horizons beyond professional skills. It offers a wide choice of electives concluding with a final consulting project. This is alongside tailored coaching sessions dispersed throughout the programme and two global business trips, like last year's trip to Vietnam, 
The EMBA is designed to be a truly transformative and inspirational experience unique to each candidate. The Financial Times is not the only global ranking recognising EDHEC's EMBA. The Economist ranked it as Top 10 in Europe and 20th in the world last year. Also in 2019, the QS Global EMBA Ranking awarded it 26th in Europe.
For more information on EDHEC's Executive MBA and available scholarships, visit our website.