The EDHEC case study "Maison Maille" won the 2018 Emerald Best Case Award
We are very proud to announce that "Maison Maille: making mustard aspirational to younger consumers" written by Marie-Cécile Cervellon, Professor of Marketing and Léa Lembo, an alumnus from EDHEC…
Reading time :
17 May 2019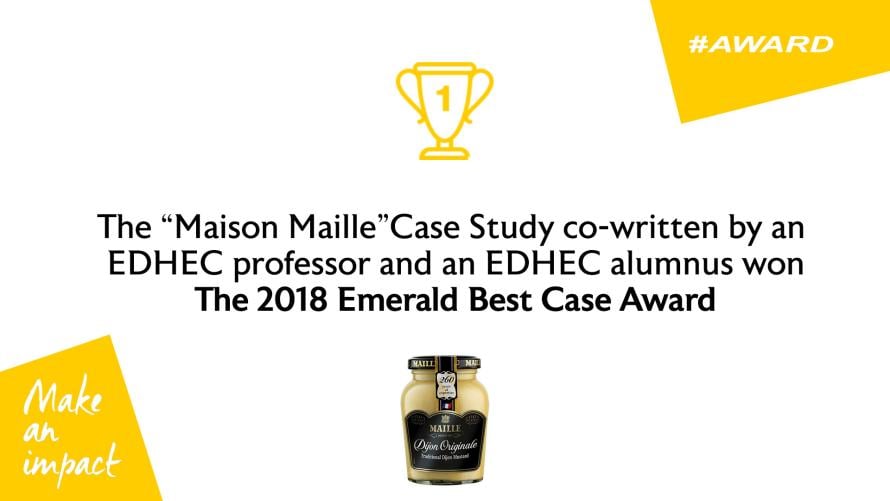 We are very proud to announce that "Maison Maille: making mustard aspirational to younger consumers" written by Marie-Cécile Cervellon, Professor of Marketing and Léa Lembo, an alumnus from EDHEC Business School, won the 2018 Emerald Best Case Award.
The jury declared the winner among three finalists during the CASE Association's 2019 Annual Meeting held in Wilmington, Delaware.
A "spicy" case
The Gist
The case "Maison Maille: Making mustard aspirational to younger consumers" introduces students to the heritage brand Maille. Dating back to 1747, Maille managed to elevate the image of mustard from commodity to premium, leveraging brand authenticity. Present in mass distribution with a premium price positioning, Maille develops its image through the creation of an elaborate customer experience in its boutiques, as well as through a communication strategy based on storytelling. Yet, the core basis of customers who identify as "gourmets" is aging. To sustain its development, Maille needs to gain appeal among younger generations of consumers, without betraying its identity.
The Business Usefulness
"In the context of commodification across many industry sectors, the Maille case teaches students how to segment markets along attitude and lifestyle dimensions and rejuvenate a brand image through a relevant communication strategy. " explains Marie-Cécile Cervellon.
Criteria included
The jury determined the quality of the case basing on:
Engaging writing style
Timelessness and significance of the subject matter
A challenging problem or analysis
The quality of the instructors' manual/teaching note as a critical component of the case, even though not a 'published' component was also been taken into account basing on:
Research contribution
Method by which it elevates the case to meaningful status
Practical pedagogical guidance offered to instructors
Contributions to the field