The EDHEC Global MBA Hackathon 2023 
A unique opportunity to showcase skills beyond your CV 
Reading time :
27 Jan 2023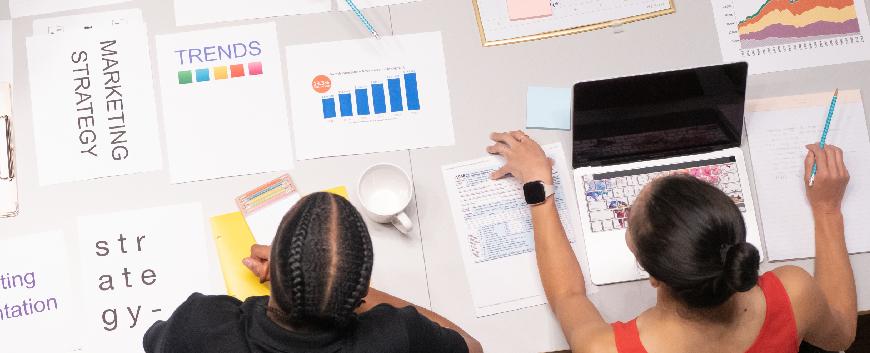 In January, the MBA 22/23 cohort travelled to Paris to participate in the annual EDHEC Global MBA Hackathon. The hackathon was an intense two-day event at the EDHEC Paris campus where MBAs worked on seven diverse projects with AXA Investment Managers, Best Western® Hotels & Resorts, Bristol Myers Squibb, Capgemini Invent, Flock, Maserati, and PRELOVV. 
Creating a winning strategy in one day 
The event began with a company briefing the day before the challenge followed by a full day of ideation, prototyping and pitching with collaboration within each team and with the company representatives. Each company had two teams working on their business challenge who each provided pitches mid-day to determine which of the two teams' strategy would represent the company in the final end-of-day competition. Once the winning strategy was determined, the two teams came together to work on the final presentation as a unified team. It was an invigorating opportunity to use MBA learnings to solve complex real-world company challenges in a tight timeframe.  
The jury members for the final competition were comprised of industry members, EDHEC alumni and EDHEC faculty. The overall winning team of the hackathon created an innovative solution for Flock to incentivise safer driving among commercial vehicle fleets. This winning team rose to the challenge while also managing to take a lot of learnings from the experience thanks to the constructive feedback from the experienced jury Styve Kombila, Principal - Cloud Sales Solutions at Microsoft, Milagro Cornejo, Global Social Media Director at Havas Group, Sandra Richez, Global MBA Programme Director and Martin Barbier, Executive Director, EDHEC Alumni.  
Teamwork makes the dream work 
"Our final solution idea was truly a product of a constructive discussion. All of us contributed some pieces to it, and none of us could have come up with it alone. The contribution from the supporting team was also crucial for our success, as they provided credibility to our presentation through meticulous research." said Yoko Furusaki who was part of the winning team.  
Team-mate Vaisakh Unnikrishnan agreed "To envision a tangible solution for a real-world challenge faced by Flock gave a glimpse of the day-to-day adventures in the corporate world. Both the sub-teams could readily create synergy between their individual strategies to devise an efficient business plan that was easy to implement. This exciting experience was a chance for all the team members to showcase their expertise in creative collaboration, time management and design thinking while creating values for all the stakeholders involved." 
"More than anything, the Hackathon was a lesson in how to make a super diverse set of skills work together." summarised Steven Sadiq, also part of the EDHEC Global MBA Hackathon winner team. 
Win-win for all involved 
The format of the Global MBA Hackathon event is an excellent opportunity for the participants to showcase their leadership and decision-making skills to potential future employers who, in return, appreciate being able to get to know candidates in real-life settings, beyond their CV. 
Furthermore, "the Global MBA hackathon is a unique occasion to collaborate with experienced students to get a new approach to a business challenge while having the opportunity to identify our potential collaborators of tomorrow. The MBA students impressed us with the quality of their contributions, their ability to innovate and to think outside the box." said Thibault Vasset, Managing Consultant, enterprise transformation - Capgemini Invent and added that he appreciated the "quality of the event as well as the EDHEC team who does everything possible to make it a success for the students, the speakers and the image of EDHEC".  
Timing is also an important factor: "The fact that this event is organised in January is an important point because it corresponds to a time when we take stock of the challenges that await us throughout the year.  It is perfect timing to collect new ideas that could be useful to us." said Estelle Glowacki, internal consultant at AXA Investment Managers. "We were impressed by the professionalism of the participants who put all their energy into understanding our needs and finding solutions. With their wealth of experience, they were able to bring out a multitude of ideas and proposals. This output allows us to continue our reflections. Beyond the final formal presentation, we particularly liked the moments of informal exchange with both the participants and the other companies. This very professional event leaves a lot of room for the human element, for meeting talent and for cooperation"  
The day finished off with a fireside chat with L'Oreal and Société Génarale on "Driving Diversity, Equity and Inclusion in Business: The challenges and Successes" and a networking cocktail event with industry members and EDHEC alumni. 
Are you ready to take your career to the next level?
Transform your career with the highly personalised EDHEC Global MBA - a springboard for your career growth. Get the skills and knowledge you need to propel your career forward.