The EDHEC Master in Management further cements its place among the world top 20 in the Financial Times 2018 ranking
The Financial Times published its 2018 ranking of the world's top Masters in Management (MiM) today and confirmed EDHEC's position in the world top 20, along with only three other French Grandes…
Reading time :
10 Sep 2018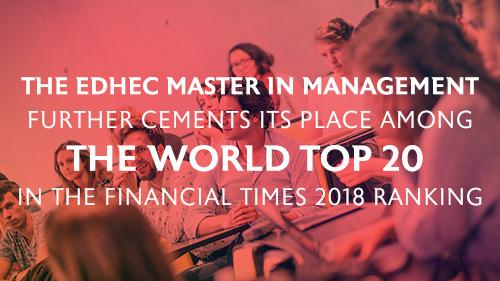 The Financial Times published its 2018 ranking of the world's top Masters in Management (MiM) today and confirmed EDHEC's position in the world top 20, along with only three other French Grandes Ecoles.  
In a highly competitive international context, EDHEC has maintained its position since the ranking was created in 2005, alongside prestigious institutions such as the London Business School, Bocconi University, etc. This latest result underlines EDHEC's stability and the performance of its careers service valued by EDHEC MiM graduates as one of the strengths of the programme.
"The EDHEC Master in Management once again stands out for its excellence, by being ranked in the top 20 of the Financial Times ranking, a position it has cemented over many years. This international recognition confirms EDHEC's ambition to train agile, efficient business leaders capable of anticipating transformations in the world, both today and in the future". Michelle Sisto, Associate Dean of Graduate Studies
The EDHEC MiM is a top level double degree programme, taught entirely in English with a choice of specialisations in Financial Economics or Business Management. This programme offers a unique, academic, cultural and international experience, and enables students to acquire dual managerial and technical competencies sought-after by international recruiters.
Over many years, EDHEC has consistently cemented its place among the top 20 Business Schools worldwide for all of its programmes. The FT recently ranked EDHEC as the 14th European Business School  (December 2017) and 3rd worldwide for its pre-experience MSc in Finance (June 2018)
Discover the full ranking here