EDHEC master's in finance: "transformative, empowering, and fulfilling"
Mountaga Tall joined EDHEC's Master in Management-Finance in 2018. He now works at the General Inspection at Société Générale, a department that plays a vital role in the bank's operations. 
Reading time :
24 May 2023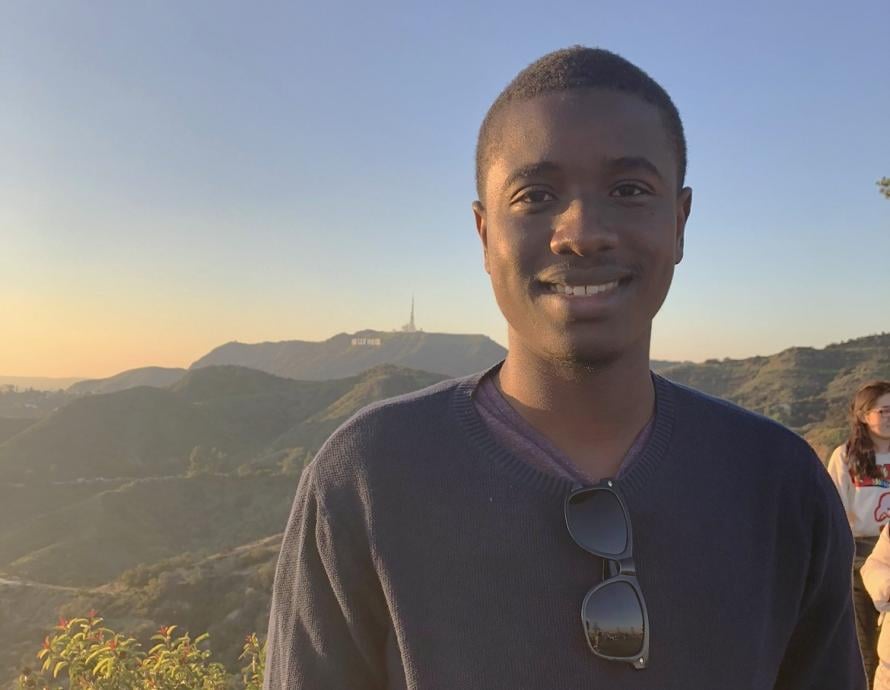 Was it your background prior to joining EDHEC?
I was born and raised in Senegal, a country located in West Africa. After graduating from high school, I decided to come to France to attend a preparatory school at Lycée Joffre in Montpellier, which would prepare me for the French Grande Écoles.   
After the Pré-Master, you chose to join EDHEC's master in management-Finance. Can you sum up your experience of the track?
My experience in my Master's in Finance has been amazing. EDHEC's facilities are top-notch, with state-of-the-art technology and resources that helped me to excel in my studies.  
The professors were exceptional, with a wealth of knowledge and experience in their respective fields. They were always available to answer questions, provide guidance, and offer support whenever I needed it.  
The students were equally impressive. They came from diverse backgrounds and brought unique perspectives to the classroom. Collaborating with them on group projects and assignments helped me to broaden my horizons and learn from different viewpoints. I also appreciated the sense of community and camaraderie that we shared, which made the experience even more enjoyable. 
The administrative staff and career center were also very helpful and supportive, always willing to lend a hand whenever I needed assistance. 
You chose to specialise in Sustainable Finance for your Master 2. The MSc in Climate Change & Sustainable Finance is a double degree with an engineering school. Was that aspect important to you? What aspects of MSc programme did you enjoy the most?  Your favorite class within the double degree? Professor? And why?  
The MSc in Climate Change & Sustainable Finance is a double degree with an engineering school, and it was indeed important for me, as it allowed to gain a more comprehensive perspective on the subject. By studying both the financial and technical aspects of sustainable finance and climate change, I could develop a better understanding of climate change and energy.  
One of the aspects of programme that I enjoyed the most is the opportunity to work on group projects, involving case studies. That provided me with the chance to apply the theoretical knowledge in the classroom to practical scenarios.
I also enjoyed the fact that we had several lectures from different experts in the field, coming from academia, research or the industry. 
My favorite class was "Energy Chain & Climate Change" with Professor Gilles Guerassimoff. The course allowed me to learn the basics of climate science and energy systems, its production and usages. And provided me a broad range of perspectives on the global energy situation in the world. 
Being in the Grande École programme, you seized the opportunity to go on an exchange. Where did you choose to go? What are the main highlights of this experience abroad?  
Studying abroad was one of the best decisions I ever made, and my exchange semester at the University of San Diego was undoubtedly one of the highlights of my academic journey.
One of the things that made my semester in San Diego so special was the opportunity to meet people from all over the world. The campus was filled with students from diverse horizons, each with their own unique perspectives and experiences.
Being in a different education system was an opportunity to learn new things and broaden my academic horizons.
In addition to the academic benefits, my exchange semester also gave me the chance to discover a new culture and explore some of the incredible places that California has to offer. From the stunning beaches to the bustling city of San Diego, there was always something new and exciting to discover.
Also I came away with new insights, new friendships, and memories that I will cherish for a lifetime. 
Which companies did you join for your internships? How has the professional immersion year impacted your career aspirations?
During my professional immersion year, I did internships at Ernst & Young and at the World Bank.
During my internship at Ernst & Young, I was able to gain valuable insight into the world of audit and accounting. I was able to see how the theory and principles I had learned in the classroom were applied in practice.
My internship at the World Bank, on the other hand, gave me the opportunity to work on development projects in West Africa. It was an eye-opening experience that allowed me to see first-hand the impact that international organisations can have in developing countries. Working on projects that aimed to improve the lives of people in the region was incredibly rewarding. 
Overall, these internships gave me the practical experience and insights that I needed to understand the inner workings of these industries, and they helped me to identify my strengths and interests, develop new skills and gain knowledge. 
Can you tell us about the career services you benefited from?
One of the most valuable resources that I had during my time in EDHEC was the career services office. The support and guidance that they provided were instrumental in helping me to prepare for my career and to secure job opportunities. 
They provided a range of services to help us build our resumes, cover letters, and other job application materials. They offered workshops and one-on-one sessions where we could get feedback and advice on how to tailor our application materials to specific job opportunities.  
They also organise several career days and these events were an excellent opportunity for me to meet with different companies and learn more about what they do. It was a chance for me to ask questions, gather information about different industries, and make connections with professionals who worked at these companies.
Joining EDHEC makes you an Alumnus from the start. How have you benefited from the EDHEC's alumni network?
EDHEC's alumni network has been a great resource for me. Connecting with alumni has provided me with guidance, mentorship, and networking opportunities that have helped me to grow both personally and professionally.
I have been fortunate enough to have several alumni who shared their experiences and insights with me, offering guidance on everything from career choices to work-life balance.  
Through alumni events and networking opportunities, I have been able to connect with professionals in a wide range of industries and to learn more about different career paths. These connections have helped me to gain insight into the job market, to identify potential job opportunities, and to build relationships that may be helpful throughout my career. 
You have joined La Société Générale at the Inspection générale. What can you tell us about the department and your role?
The General Inspection at Société Générale is a department that plays a vital role in the bank's operations. It is responsible for conducting internal audits and consulting assignments across all of the bank's departments and geographies in the world. 
Inspectors work closely with management teams across the bank to identify and address risks and weaknesses in the bank's operations. They conduct independent and thorough assessments of the bank's activities, systems, and controls, and provide recommendations for improvement. 
Do you have career advice for recent graduates or people thinking of making a career shift to finance?
First, it's important to build a strong foundation of knowledge in finance, and EDHEC will perfectly equip you with that.
Networking is also important, building relationships with professionals can help you gain valuable insights into the industry, learn about job opportunities, and potentially secure mentorship or internships.
Finally, stay up to date with industry trends and developments by reading industry publications and following the news among others
EDHEC's motto is make an impact. How do you intend to make your impact?
First and foremost, I plan to use my career to make a difference. I want to help companies make responsible financial decisions and contribute to sustainable economic growth, whether that's through sustainable investing, philanthropy, or other means.
In addition to my career, I also plan to make an impact through my personal life. I believe that collectively, small actions can have a big impact, so I try to make choices that align with my values and contribute to a better world. For example, I try to reduce my environmental footprint by recycling, using public transportation, and buying sustainable products. 
I try to do this while inspiring others to do the same. 
If you had to sum up your EDHEC experience in three words, what would they be? 
If I had to sum up the EDHEC experience in three words, they would be: transformative, empowering, and fulfilling.