EDHEC MBA Programmes Commended for Career Service, Scholarships and Sustained Investment in AMBA Re-Accreditation Report (AMBA)
EDHEC's Global MBA & Executive MBA have been officially re-accredited by AMBA following a rigorous and independent re-assessment process. So, why is AMBA accreditation important? What did the AMBA…
Reading time :
8 Apr 2019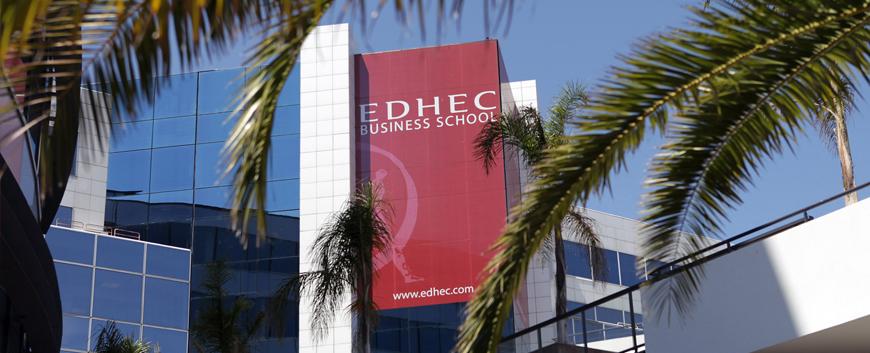 EDHEC's Global MBA & Executive MBA have been officially re-accredited by AMBA following a rigorous and independent re-assessment process. So, why is AMBA accreditation important? What did the AMBA Accreditation Panel say about EDHEC's MBA programmes? Here we take a more detailed look at the AMBA accreditation.
Is AMBA Accreditation Important?
The simple answer is yes. The AMBA accreditation is one of the most important indicators of exceptional quality and standards for an MBA programme. For a programme to gain the prestigious accreditation or re-accreditation, AMBA carries out a full, in-depth and rigorous assessment looking at all aspects of the MBA, from faculty to student feedback, facilities to curriculum and alumni to careers services and support.
In short, the assessment reviews everything we do during the programme, how we do it and whether we do it to a very high standard to warrant being awarded or re-awarded the AMBA accreditation.
Only 3% of business schools world-wide have AMBA accreditation for their MBA programme – and EDHEC's Global MBA & Executive MBA are very proud to be amongst this select group.
What Did the AMBA Accreditation Panel Conclude about EDHEC's MBA Programmes? 
Within the assessment and accreditation report, the accreditation panel recognised the following areas specifically:
Transparent Scholarships 
At EDHEC we are committed to being open, honest and transparent and unlike many schools, we maintain these values when it comes to tuition fees and scholarships. We are proud to offer a wide range of scholarships which are very clearly communicated so you know in advance what your final tuition fees will be. We do not make special offers, we treat every application in a fair and transparent way which AMBA described as "admirable". You can see our range of scholarships here.
One of the Best Careers Services
No matter where you are in your professional journal, embarking on an MBA or EMBA is the beginning of an important transformation for every participant which is why we have built our dedicated CareerSmart programme. This unique approach means that professional development and personal coaching sessions are built into the curriculum alongside networking and career events. This is why according to the accreditation panel our career services for MBA students are "among the best found at AMBA accredited schools.". Read more on our CareerSmart programme.
Collaborative Approach
A key part of the MBA programme is focussed around working, leading and driving teams. In most modules for example, group work is not only part of the learning process, it also forms part of the assessment to reflect the nature and complexity of international business and leadership. The AMBA Accreditation Panel stated that EDHEC, our programmes and the MBA team is "clearly imbued with a culture that celebrates collegiality and collaboration".
Why Does AMBA Do Re-Accreditation?
One of the reasons that the AMBA accreditation is recognised as being highly credible and respected is because the assessment criteria include not only proof of current and past performance and standards but also clear commitment and investment in continuous improvement.
To do this, an accreditation is awarded to a school for a maximum of 5 years based on the results of the assessment, after the initial period has passed, a new assessment takes place which again reviews all elements of the programme. There is no guarantee that a school will be re-accredited unless it can clearly demonstrate through conclusive proof provided during the assessment process that its curriculum, faculty, student experience and facilities meet the required standards. 
EDHEC MBA & EMBA programmes have just been re-assessed and awarded the accreditation for the maximum 5-year period which recognises our commitment to continuous improvement and high standards across all the programme elements.
What Other Accreditations Are Important?
Alongside the Association of MBA's (AMBA), there are 2 other international accreditations which you should look out for when looking for the right school for you -  AACSB and EQUIS accreditations. Only 1% of business schools in the world have triple accreditation and EDHEC is one of them. Read more on triple accreditation here.