EDHEC MSc in Marketing Management made one of my dreams come true!
WHAT IS YOUR EDUCATIONAL BACKGROUND PRIOR TO EDHEC? WHY DID YOU CHOOSE EDHEC? I earned my bachelor's degree in Finance from the University of Jordan in 2015. During my studies, I participated in many…
Reading time :
18 May 2020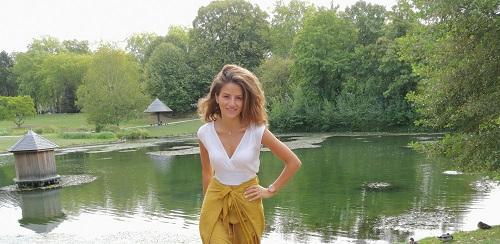 WHAT IS YOUR EDUCATIONAL BACKGROUND PRIOR TO EDHEC? WHY DID YOU CHOOSE EDHEC?
I earned my bachelor's degree in Finance from the University of Jordan in 2015. During my studies, I participated in many international student competitions such as the HULT Prize (social entrepreneurship) at HULT Business School London, U.K in 2015. I also obtained a scholarship from the U.S. embassy & Coca-Cola to study international business at Kelley School of Business Indiana University in 2014 where I ranked 3rd in an entrepreneurship competition.
I also got involved in voluntary work for the EU, U.N, UNICEF & USAID.
Moreover, I have a 4-year professional experience in the marketing and communication field in the Middle East and North Africa region, which, I believe, helped me a lot to get into EDHEC. I wanted to further my education and acquire abroad experience. And I successfully got a full scholarship from the French embassy in partnership with TOTAL to study for my master's degree at EDHEC.
My academic, work and personal experiences have led me to this goal, I decided to further my studies in the marketing field, and enrich my skillset in both technical and interpersonal aspects.
I have always wanted to study in France and was confident that this was my spot. France has the world's top-ranked business schools, is well-known for its high-quality education system, and offers great internship opportunities.
Furthermore, being at EDHEC helped me build connections and friendships with people from different cultures and backgrounds. You cannot imagine a better country to study in! France is an inspiring country in the heart of Europe with very diverse cultures. 
I have done intensive research before choosing EDHEC, I reached out to its Alumni and career professionals on LinkedIn to get their advice, and I was impressed with the power of EDHEC name, its ranking, the range of Masters of Science and the positive reputation the school has. I was also amazed by EDHEC's huge network with elite companies worldwide.
WHAT Master of Science DID YOU JOIN?
I joined the MSc in Marketing Management. It offers all students on-the-job-training and supports them in drawing their career plans. It offers a hands-on approach. We worked on real case studies for prestigious companies, meeting industry leaders. This helped me gain a better understanding of the link between the job market and theories.
I could not see myself in a better academic environment than EDHEC and France.
HOW HAS BEEN YOUR JOURNEY AT EDHEC?
I'm EDHEC's first Jordanian student. I started my journey at EDHEC, with a very nice welcoming session with the MSc Director Professor Guergana Guintcheva and the International Students Office. I am thankful for all the support the ISO team provided me with since day one! My journey was literally full of new experiences, adapting to new environment filled with challenges, learning and positive personal changes. I am very thankful for that!
WHAT ARE THE MAIN SKILLS YOU ACQUIRED AND FEEL WILL BE USEFUL IN YOUR CAREER?
Born and raised in Jordan, receiving formal education in the U.S.A and the U.K, working in Middle East & North Africa, and now completing higher education in France, adding a European experience allowed me to have a transferable skillset that suits multiple markets. Gaining such knowledge from different markets and from different cultures gives me an edge on consumer behaviors across different locations.
The MSc in Marketing Management covers a wide range of topics on demand on the current job market, offering rich knowledge in digital marketing, data science, and branding & consumer science. The group projects for big companies with students from different nationalities and backgrounds fune-tuned my leadership and French skills. I chose the concentration in Luxury and Fashion, for which I have a strong passion. A stepping stone to reach the number one beauty brand in the world "L'Oréal".
CAN YOU TELL US ABOUT YOUR INTERNSHIP PROSPECT?
Right from the start, EDHEC Career Centre gave us a full mentorship and guidance on how to reach our career objectives through intensive coaching, one-to-one sessions with continuous follow-up, amazing career fairs. And I build a strong network.
I attended most of the events organized by EDHEC and its partners, I was chosen between multi French universities to go to Google Paris, where I had an amazing experience, I had the opportunity to discover Google and get some precious insights. Proud to be selected for the Google Adcamp, where only 12 international students got selected from all over French universities.
I started expanding my network day by day and applying online on job offers matching my criteria taking into account all advice provided by my coach from the Career Centre.
I succeeded in getting an internship at L'Oréal as Marketing Business Analyst – Active cosmetics division. It's a dream come true! I will be working in their Parisian headquarters, having the opportunity to learn from professional managers with over 30-year experience. Considering it a French company, French wasn't a barrier to get in. My background and previous experience helped me achieve that. However, it's still an essential aspect to adapt more with the French environment, that's why I started intensive French courses reaching the Intermediate level by now!
HAD YOU BROUGHT SOMETHING SPECIAL FROM JORDAN?
The uniqueness of being the 1st Jordanian student at EDHEC and the first scholarship holder of French Government and TOTAL joint scholarship boosted my motivation to represent the country and the embassy as best as I can. I have shared photos of the country, and represented Queen Rania "The queen of Jordan" in strategic leadership class as an example of successful, inspirational leader.
I've brought some pictures of friends and family to decorate my place. I've cooked some Jordanian specialties and shared with my friends with some Jordanian spirit, songs, and dance.
DO YOU HAVE ANY ADVICE FOR FUTURE ABROAD STUDENTS?
Jordan is considered an Anglophone country, whereas students are not that much familiar with a European education, due to the language barriers. I highly advise future students to consider European education and target French universities. Don't be afraid of the language, having an extra language is a plus and now it's a must in this dynamic world. Another piece of advice, there are plenty of scholarships available, keep on looking and apply as much as you can until you achieve your goal!
WHAT WILL BE YOUR BEST MEMORY OF EDHEC?
I will miss all the beautiful memories I created in Lille, and EDHEC, and the spirit of getting back to student life after work experience. I will miss creating new connections, and see all beautiful faces from different nationalities all around.
[button size='' type='' icon='' link='https://master.edhec.edu/msc-marketing-management' class='']VISIT THE PROGRAMME PAGE[/button]
Related articles:
QS 2021 ranks MSc in Marketing Management N°7 worldwide
Meet Temitope Ayorinde, MSc in Marketing Management graduate
Meet Santiago Fandiňo, MSc in Marketing Management graduate
Meet Zoé McClay, student in master 2, programme Grande école
Some virtual career advice from EDHEC MSc in Marketing Management Alumni
A programme director at the top of her game
Design thinking applied to marketing: the art of taking your shoes off to walk the customer's journey
The evolution of business models in the video-game industry