EDHEC ranked among the world's top 3 programmes by The Economist Masters in Management Ranking
EDHEC Business School ranks among the top 3 programmes in the world, according to The Economist's 2021 Masters in Management ranking of 50 global business schools. EDHEC ranks #1 in the world for…
Reading time :
1 Oct 2021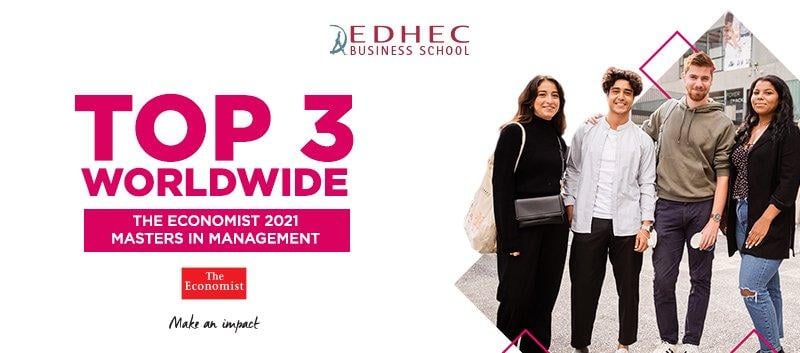 EDHEC Business School ranks among the top 3 programmes in the world, according to The Economist's 2021 Masters in Management ranking of 50 global business schools.
EDHEC ranks #1 in the world for career opportunities, #2 in the world for alumni network, and #3 in the world for student experience.
The Economist surveyed EDHEC's alumni regarding their experience, and graduates' response was overwhelmingly positive. Alumni rated the school's career opportunities as extremely enriching and said they appreciated their student experience and many networking opportunities.
No. 1 in the world for career opportunities
EDHEC has a strong reputation for outstanding career services.
Ranked #1 in the world by students for "opening new career opportunities," EDHEC's MSc in Strategy, Organisation and Consulting prepares students for the professional world and exciting job opportunities. According to The Economist, EDHEC meets and even exceeds students' expectations for career counseling and job placement.
No. 2 in the world for alumni network
The prestigious British publication also asked EDHEC graduates about the school's alumni network and the support it provides, immediately after they receive their degree and as they progress in their careers. Those surveyed rated EDHEC's global alumni network as very strong and said that it was an important factor in their professional success.
No. 3 in the world for student experience
EDHEC scored well in terms of student experience, ranking #3 in the world. EDHEC's campuses are known for their beauty and proximity to major business hubs. Students have access to 80 clubs and associations, where they make life-long friends and memories. Alumni said they valued their educational and student experience because it opened their eyes to global challenges, in business and society.
"The Economist's latest ranking confirms several pillars of EDHEC's Masters programmes: the excellence of the Career Services, the quality of the programmes and the rich and complete student experience. We congratulate our alumni for their dynamic careers and our faculty and staff for their strong commitment to our students year after year,"
said Michelle Sisto, Associate Dean of Graduate Studies.
This excellent ranking follows the remarkable progression of EDHEC's Global MBA according to The Economist in January 2021, confirming the constantly improving results of the school across all of its programmes.