EDHEC takes part in a transnational sustainable fashion project, with European Commission support
The « Fostering Employability Skills For Sustainable Fashion » project has just secured funding from the European Erasmus+ programme. Led by Glasgow Caledonian University (GCU), together with EDHEC…
Reading time :
7 Oct 2020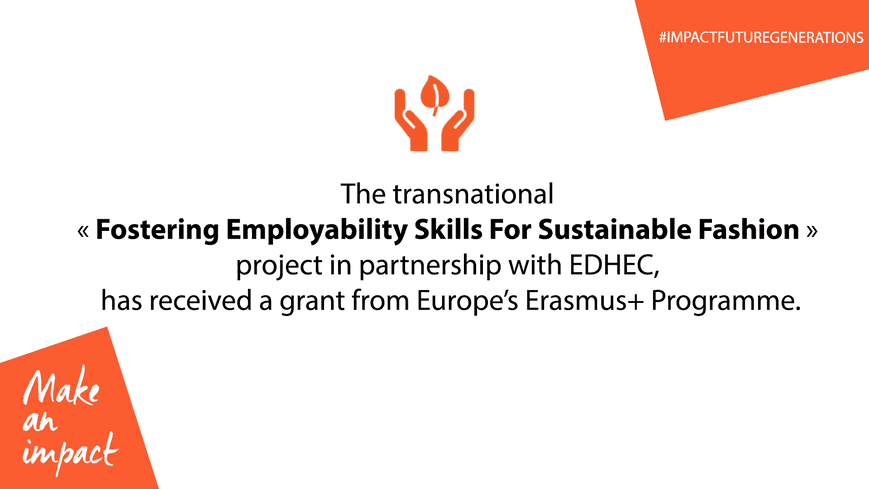 The « Fostering Employability Skills For Sustainable Fashion » project has just secured funding from the European Erasmus+ programme.
Led by Glasgow Caledonian University (GCU), together with EDHEC Business School, Complutense University of Madrid, the Polytechnic University of Valencia and  the University of Madeira, the transnational initiative seeks to foster the development of skills and knowledge to promote more sustainable fashion.
EDHEC's commitment to the project is a good strategic fit with its 2020–2025 "Impact Future Generations" plan, as it focuses on the education of future generations to build both a sustainable, ethical and meaningful industry and economy, more broadly.
"The aim of Erasmus+ is to contribute to the Europe 2020 strategy for growth, jobs, social equity and inclusion, as well as the aims of ET2020, the EU's strategic framework for education and training,"
according to the European Commission website. 
With a budget of £300,000, the project will take place over three years and be conducted in partnership with the luxury brands Harris Tweed Hebrides and Tendam, one of Europe's largest fashion retail groups.
The challenge is to provide the fashion industry with new knowledge and skills that will transform and better align it with a market that is increasingly critical of 'fast fashion'.
"This trend has increased since the beginning of the COVID-19 crisis," says Professor of Marketing Marie-Cécile Cervellon, EDHEC project leader and author of numerous research papers on the second-hand market and sustainable luxury consumption. "The epidemic has raised questions about consumption patterns."
Together with its partner companies, the project will offer students and future fashion-industry talents the opportunity take part in 'learning expeditions' on the creation and manufacture of clothing, sustainable supply-chain management, ethical practices, climate change, digital skills and communication. The first workshop, in which a previously selected group of students from the EDHEC BBA programme will participate, is due to take place in Scotland in June 2021.
The collaboration will also result in the publication of a white paper on the gaps between the training offered by European academic institutions and real industry expectations, as well as the creation of educational resources to foster understanding and the implementation of the principles of sustainable development in the fashion industry.