EDHEC's Executive MBA rated among the best in the world in the QS 2020 ranking
EDHEC's Executive MBA was ranked 45th worldwide out of 161 programmes (up 6 places relative to 2019 and 15 compared to 2018) and rose to 20th position among Executive MBAs in Europe out of 56 (up 4…
Reading time :
30 Jun 2020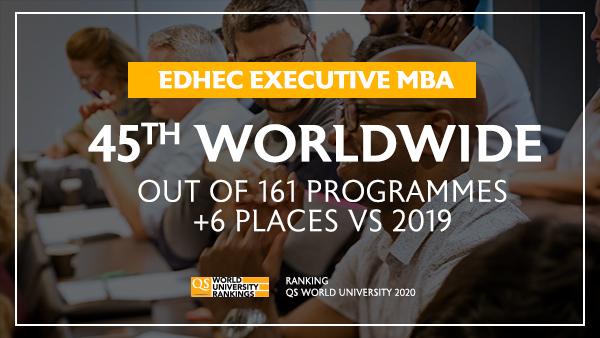 EDHEC's Executive MBA was ranked 45th worldwide out of 161 programmes (up 6 places relative to 2019 and 15 compared to 2018) and rose to 20th position among Executive MBAs in Europe out of 56 (up 4 places relative to 2019), according to the QS 2020 ranking.
Conducted by the UK think-tank Quacquarelli Symonds (QS), this ranking of top Executive MBAs is one of the most comprehensive and prestigious in its category. The career progression of EMBA graduates is considered primordial. The degree of diversity in the class year and faculty in terms of both nationality and gender is also a key criterion. More generally, the programmes are analysed in terms of the return on investment they represent for participants.
The EDHEC Executive MBA stands out particularly for the highly-experienced profile of its participants - ranked 19th worldwide - and for the promotions and salary increases obtained by participants on completing the programme - 22nd worldwide.
Regarding the degree of experience, 83% of participants were classified as "executive profile".
Results concerning participants' career plans were also very positive, with the EDHEC Executive MBA's overall score on the 'Career Outcomes' criterion reaching 82%. Participants on the programme are assured of obtaining a promotion or a significant salary increase after graduating.
"
An Executive MBA is one of the best tools for managers to project themselves into the second part of their career through a meaningful professional project that matches their values. The programme enables participants to acquire high-level vision, get to know their capabilities better and develop an all-round view of the company, in order to lead projects that entail social and environmental impacts. The results from this ranking by QS World University strengthen our desire to develop leaders with real human values
"
underlines Stéphane Canonne, Director EDHEC Executive Education & MBAs
Diversity is another very important criterion for the EDHEC Executive MBA: the programme ranked around the global average both in terms of male-female diversity and nationalities represented by class year. This year, for example, women account for 39% of participants, while international students make up 35% of all those enrolled on the programme, with 14 nationalities represented. The QS ranking also incorporates the diversity of faculty: 64% of teachers on the Executive MBA are of international origin. This diversity adds considerable value for the managers who come to study on the EDHEC Executive MBA and change the course of their career for ever.
Discover the QS 2020 ranking
Find out more about our Executive MBA training