EDHEC's Master in Finance rated 5th worldwide in the Financial Times 2021 ranking
EDHEC's Master in Finance was again rated 5th worldwide among more than 50 prestigious institutions covered in the Financial Times 2021 ranking. The EDHEC Master in Finance's international character,…
Reading time :
21 Jun 2021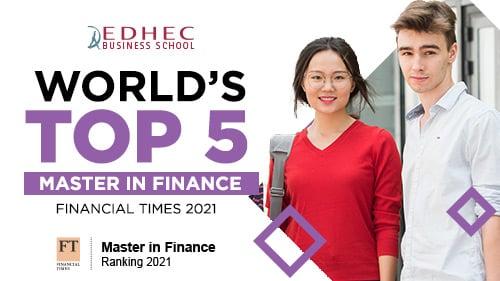 EDHEC's Master in Finance was again rated 5th worldwide among more than 50 prestigious institutions covered in the Financial Times 2021 ranking. 
The EDHEC Master in Finance's international character, its ability to support students in their career progression via the career support service and its value for money were all recognised as undeniable assets by the Financial Times.  
The programme effectively maintained its 3rd place worldwide in terms of 'career progress' as well as its 100% placement rate.
It was also ranked 3rd globally for 'international experience'.
"EDHEC's Master in Finance cements its appeal with this Financial Times 2021 ranking and EDHEC continues to update its portfolio of programmes to ensure academic excellence and solid preparation for the professions of tomorrow. Our finance programmes notably embrace themes like data science, climate change and ecological transition. We want our students to make a positive impact on the financial industry, the environment and society"
emphasises Michelle Sisto, Associate Dean of Graduate Studies.
Click here to see the full Financial Times ranking