Business Trip to San Francisco & Silicon Valley for EDHEC Executive MBA
80 students from EDHEC Executive MBA Lille and Paris are in California from 13 to 17 June to meet business leaders and owners located in San Francisco and Silicon Valley. The complete immersion is…
Reading time :
7 Oct 2016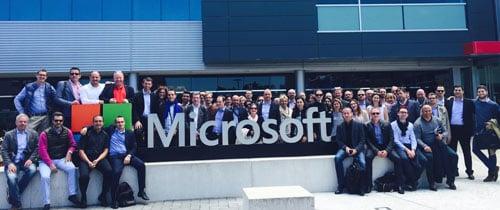 80 students from EDHEC Executive MBA Lille and Paris are in California from 13 to 17 June to meet business leaders and owners located in San Francisco and Silicon Valley. The complete immersion is designed to give them a very down-to-earth view of the concept of new business models.
An integral part of the EDHEC Executive MBA programme, the business trip throws the spotlight on business models to give students a new perspective based on concrete and innovative models.
Full immersion
Organized in collaboration with the French American Chamber of Commerce San Francisco (FACCSF), the week-long immersion takes them to the heartland of HP, Dailymotion, Microsoft and Paypal, alternating conferences, company visits, meetings with business leaders and workshops, among other things. It includes talks by the CEOs of Symphony, Evenium, Sylpheo, Scality, Scoop it, DaCast LLC Colin Brown and Venturebeat; stories on the experiences of the founders of Joy, iMuze, Slick, Teuko, Venturexcel LLC; marketing with Yelp and LinkedIn; visits to innovative startup incubators, including  SkyDeck, Berkeley's College of Engineering incubator. "We're really thrown head first into the Bay Area business environment," one of the students enthused. "Every day is packed. It's incredibly dense and stimulating."
Changing paradigms
"These meetings help the students to analyze how new business models work, to change paradigms and  establish links between an ultra-stimulating ecosystem and value creation, to immerse themselves in powerful entrepreneurial thinking and discover the dynamics liked to the concepts of risk capital, traction, pivot, etc." Denis Dauchy, Director of the EDHEC Executive MBA programme, told us. "It means taking a step back and developing strategic sensitivity as well as new managerial reflexes. At the end of the Business trip, the students write a Business Report on one of the companies they visited. It's a teamwork effort in which they need combine real conditions with the reading they've done during the course to show their ability to "think strategically and act like an entrepreneur"!