Engagement of younger generations: the new picture
The fifth episode of EDHEC Vox Podcast focuses on the engagement of young staff in companies today. It asks the following questions: What new aspirations do the young generations have? What meaning…
Reading time :
5 Jul 2021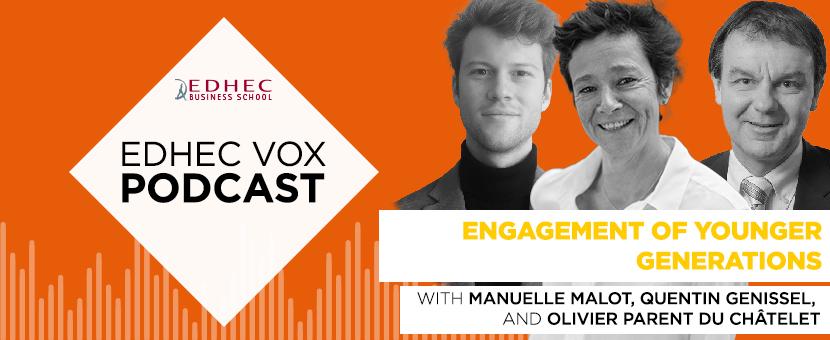 The fifth episode of EDHEC Vox Podcast focuses on the engagement of young staff in companies today.
It asks the following questions:
What new aspirations do the young generations have?
What meaning do young staff attach to their engagement?
What do they expect today from the company for their job, and beyond? 
How do companies understand the new generations and how do they ensure their engagement?
To answer these questions, Quentin Genissel, EDHEC alumnus 2017 and Pedagogical Innovation Director at Philonomist, converses with Manuelle Malot, Director Alumni Careers and of the NewGen Talent Centre at EDHEC, and Olivier Parent du Châtelet, Partner at the consulting firm BearingPoint.
Whereas Quentin raises questions as a "representative" of the new generations that have recently entered the job market, Manuelle and Olivier provide a full and documented reading on the subject, notably based on the survey conducted jointly between the EDHEC New Gen Talent Centre and BearingPoint.
The podcast explains how the young generations define engagement and how companies grasp the subject. You will also find out how a company's 'raison d'être' can improve the dynamic of engagement with its young employees.  
We hope you enjoy this new episode of EDHEC Vox podcast and look forward to seeing you again shortly for the next episode focusing on sustainable fashion.