Entrepreneurship and Innovation at the heart of the EDHEC Executive MBA
Because today's business leaders and managers must continuously innovate, take risks and reinvent their leadership style, EDHEC places these challenges at the heart of its Executive MBA programme…
Reading time :
2 Feb 2022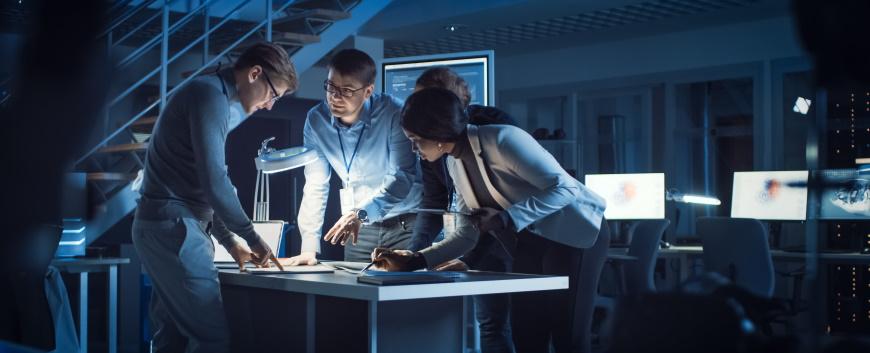 Because today's business leaders and managers must continuously innovate, take risks and reinvent their leadership style, EDHEC places these challenges at the heart of its Executive MBA programme. Clare Gately, PhD, Associate Professor of Entrepreneurship and Co-Director of EDHEC's MSc. in Entrepreneurship and Innovation Management teaches entrepreneurship and innovation at EDHEC Business School. Her course* introduces EMBA participants to the concepts, tools and practices of entrepreneurship with a focus on design and lean start-up methodologies.   
Entrepreneurship & Innovation - an interview with Clare Gately, PHD
You have been teaching strategy and entrepreneurship at the Waterford Institute of Technology, Ireland, and coached many Irish entrepreneurs. Why did you choose to join EDHEC?
I was attracted by EDHEC's unique teaching approach to entrepreneurship, fed by research but anchored in practice. I also appreciate that EDHEC is part of a very dynamic ecosystem: it works closely with former students as well as with local and international economic players, which is a real strength.
What is your Teaching Philosophy for Entrepreneurship and Innovation?
Entrepreneurship, as I teach it, is rooted in practice. I focus on Design Thinking and Lean Start-up methodologies, which are key tools for today's entrepreneurs and intrapreneurs. Emphasizing fast iteration and frequent consumer insight, these hypothesis-driven innovation methods enable you to generate ideas that match the expectations of your market, and to innovate with more certainty. Pursuing a Lean Start-up approach to create a new product, for example, means that you will draw from customer feedback to build a first prototype, then test it with consumers, make changes based on the results, test it again… Whether you are starting a new venture or working within an established company, this iterative process allows you to make quick adjustments, to innovate faster and reduce the cost of failure.  
"EDHEC's teaching approach to entrepreneurship is fed by Research but anchored in practice."
What is your Teaching Method?
Only practice can make you an entrepreneur, so my teaching approach can be summed up in two words: practice and interactivity. I encourage my students to be creative and to experiment, through workshops, exercises and team-based games. The international dimension is also key for me: participants to this new course will soak up best practices from all over the world, with an eye on Silicon Valley and other world-class innovation hubs such as London or Berlin.
What can the business leaders and executives participating to the EMBA expect from this course?
Besides mastering the Lean Start-up method, participants will develop their own "innovation tool kit". They will learn, among other things, to design business and revenue models for innovative products and to prepare an investor pitch, a key step for any entrepreneur. More generally, they will learn to make pragmatic decisions when things do not work and to experiment with different scenarios in a cost-effective manner. It is an opportunity for them to strengthen their leadership and entrepreneurial skills and to maximize the potential of their business.
Entrepreneurship & Innovation
*A highly interactive course, "Entrepreneurship & Innovation" is one of the electives Executive MBA participants can choose from. The elective courses aim to develop expertise in a specific business area or to go more deeply into some of the topics covered in the Core Courses. Participants spend time ideating, building and testing their entrepreneurial ideas that create value for customers and/or society. The development of business models and revenue models that underpin their proposition also forms part of the course. This course is particularly suited to participants interested in the development of new ventures or in managing product innovation inside the firm.
To learn more on EDHEC's Executive MBA (EMBA Paris – Lille), do not hesitate to contact us: [email protected].
Are you ready to transform your career with an MBA?
With the 16-months part-time EDHEC Executive MBA, you gain the insight, knowledge and personal resolve to lead the transformation your career and business need:
Refine your strategic, financial and business leadership competencies.  
Challenge your perspectives and develop new ways of thinking.
Develop your capacity to lead with confidence and authenticity. 
Develop an international business network.