European Student Dataviz Challenge 2022: Doing good with data
EDHEC is delighted to announce that we will once again supporting the third edition of the European Student Dataviz Challenge, with the Final taking place on the EDHEC Campus in Paris, on June 17th…
Reading time :
1 Mar 2022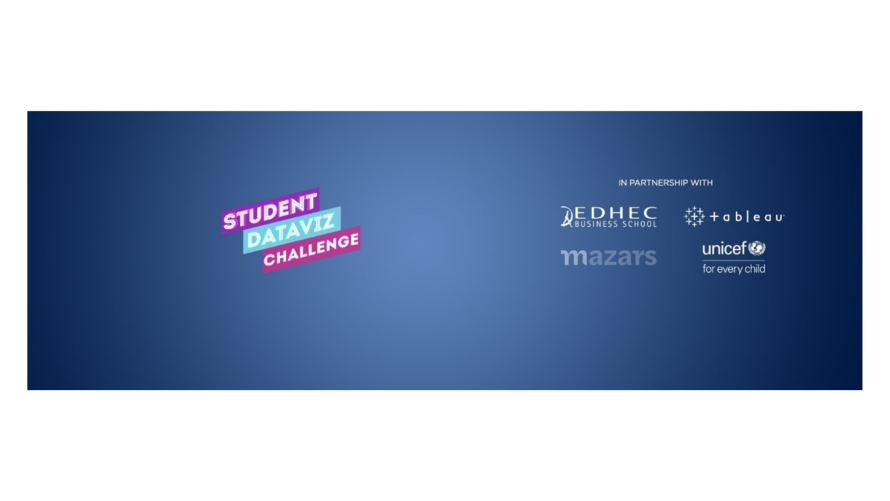 EDHEC is delighted to announce that we will once again supporting the third edition of the European Student Dataviz Challenge, with the Final taking place on the EDHEC Campus in Paris, on June 17th.
The challenge, in partnership with UNICEF, Tableau & Mazars and EDHEC Business School aims to promote the importance of data visualisation, encourage the development of data-based decision-making in future managers and support UNICEF mission.
The competition opens for entries on the 14th March and runs until the 1st May and any student who is studying at an accredited, degree-granting institution in Europe can participate.  The 10 top entries will move forward to the grand final and will have the opportunity to win an interview with UNICEF for a Data Visualisation internship and many other prizes such as individual coaching sessions with Mazars or complimentary tickets to the Paris VivaTech Conference!
What is the Student Dataviz Challenge?
It is a unique competition designed to put theory into practice and have fun with the data using Tableau software and open data provided by UNICEF.
Organised by EDHEC Business School together with Tableau, Mazars and UNICEF, the challenge – launched in 2020 – runs on the belief that Business Schools are an important source of talent in the field of data analytics. Its aim is to encourage students to become more involved and skilled in the art of visualising data for the greater good.
The challenge offers students an opportunity to raise awareness of social or environmental issues by harnessing the power of data visualisation.  
Why enter the challenge?
If you are a European student passionate about data, or if you would like to practice and improve your data visualisation skills whilst supporting UNICEF mission, the Student Dataviz Challenge 2022 is an ideal opportunity for you to make a difference and put your skills to the test alongside of hundreds of other students across Europe.
'Data visualisation combines some of the most in-demand skills on the job market today such as critical thinking, creativity and communication. The Data Viz Challenge provides a platform for students to develop these competencies, network, pitch and grow their employability,' said Jessica Wheaton, Learning and Culture Manager at Mazars.
'As data literacy increases in importance, learning analytics and understanding how to best visualise data will help students stand out professionally, driving faster insights and informed decisions in their work and study,' added Ashley Koen, Academic Programme Marketing Manager at Tableau.
How does it work?
The 2022 competition is open for entries from 14th March until 1st of May.
All entries must be submitted using Tableau (students can get free access to Tableau Desktop and a range of other support tools) and choose a topic linked to UNICEF missions and use the international NGO's data to highlight and raise awareness of global issues. Previous entries have, for example, focused on the gender gap in education, tobacco use in children under 15, and inequality.
The top 10 entries will present their visualization to the judges and partners and compete for the opportunity to interview with UNICEF for a Data Visualisation internship.
You can pre-register here to get exclusive insights, find out more about the challenge and gain tips and advice on data viz.
You can also register here to access an exclusive webinar on 14th of March with experts from UNICEF, Mazars, Tableau and EDHEC, about the essentials of data visualisation and the 2022 Student Data Viz Challenge.
When and where is the final?
EDHEC's Paris campus will host the challenge's final in June, at which 10 finalists will pitch their entries to a judging panel.
For more information on the Challenge, how to enter and the prizes, visit the Student Data Viz Challenge website at www.edhec.edu/en/student-dataviz-challenge-2022