Experiencing Digital in the real world
Artificial Intelligence versus Humans Since September 2017, EDHEC new Master of Science Data Analytics and Artificial Intelligence is alive and kicking. "This twist in the EDHEC offering is an…
Reading time :
3 Dec 2018
Artificial Intelligence versus Humans
Since September 2017, EDHEC new Master of Science Data Analytics and Artificial Intelligence is alive and kicking. "This twist in the EDHEC offering is an essential development," says Florian Pelgrin, Professor and Director of this MSc at EDHEC Business School.
Publicis values EDHEC's thought leadership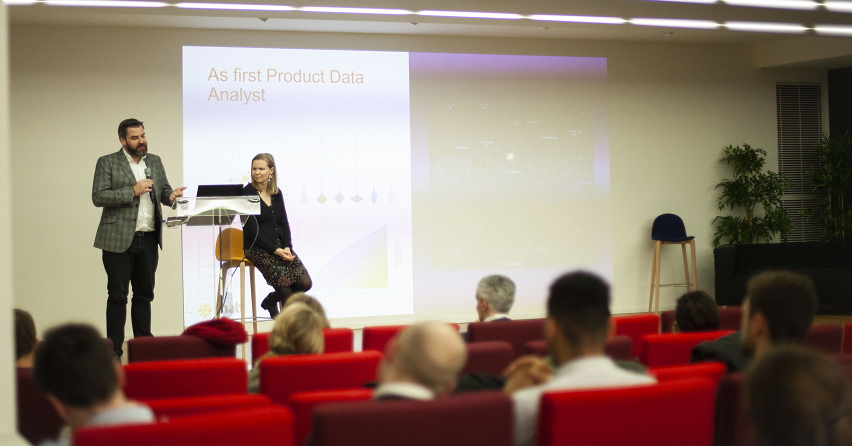 Indeed, Artificial Intelligence seems set to impact every aspect of our lives. "We're preparing our students now to navigate and steer this future". To complement the MSc in Data Analytics, EDHEC formalized a partnership with Publicis, one of the world's top 3 communications groups. 
"EDHEC graduates are a talented human resource pool" says HR Director at Publicis.Sapient, the group's digital entity. "With Publicis, students get to experience the latest evolutions to solve business and consumer problems". 
Last November, EDHEC students presented their API (acronym for Application Programming Interface) developed during their stay at Le Wagon.
Jury, composed by members of Publicis' management groups (Stéphane Bartolomucci, HR Director, Laure Demain Martinet, Chief Talent & Transformation Officer, Bastien Jobin, Data Sciences Consultant, Laure Debos, Data sciences Managing Director and Gauthier Picquet CEO of Publicis Médias) was impressed by their entrepreneurial spirit and innovative approach. Some of the projects were:
Seety: you are in an unknown city in France for a day and you want to visit some monuments. How to choose? Seety presents the best monuments in a French city of your choice and optimizes your trip.
Lifepod: your new personal memory storage space. By connecting your personal spaces (like Spotify or Instagram), LifePod allows you to relive all your memories (music, photos, tweets...) and proposes related content.
Track My Nutrients: an online dietitian that on one hand tracks your daily nutrient intake and on the other, proposes recipes adapted to your needs. Users will no longer have any nutritional deficiency (in proteins, carbohydrates, lipids, vitamins and minerals).
Invia: the tool that allows on one hand each student to build a career path adapted to their passions and on the other each coach to accompany more effectively the students.
Myzone: A SSP (sell side platform) for urban advertising. It uses data from a social network based on geographic proximity and interests.
PrimePrivacy: Intended for people wishing to regain control of their public data available on social networks.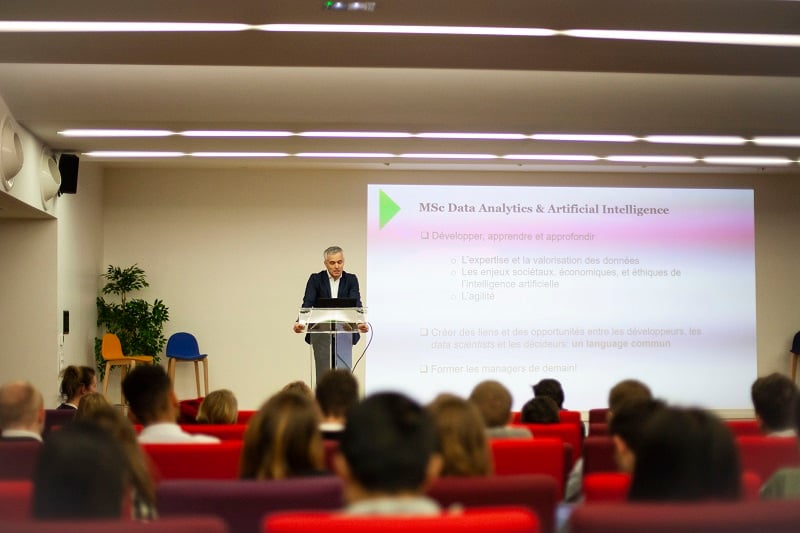 EDHEC students have been conceived these projects thanks to the partnership with Le Wagon. Some of them have spent there their full-stack bootcamp (9-week time). Projects were overseen by Le Wagon pedagogical team in Lille, under the supervision of François-Xavier Abraham, Director.
In the face of alarmist tabloid rhetoric about robots taking over the world, Florian Pelgrin brings us quickly down to earth. "AI is not 100% artificial, there are people behind it. Programmers, scientists, engineers, business managers..." He identifies two types of AI: strong AI, where a machine would demonstrate intelligent behavior, show a form of emotion, or make an objective decision; and weak AI, like a chatbot to automate the task of answering questions.
Today, only weak AI exists
Yes, AI will have an impact. Bill Gates, Elon Musk and others have spoken of societal risks, ethical and economic issues. How it affects different sectors will vary greatly, from banking, art, marketing, and gaming, to applications such as self-driving cars or the smart city. As Florian Pelgrin points out: "Our students also need to understand the importance of human intelligence, whether individual or collective. Having smart developers is not enough. There remains huge value in the collective intelligence of men and women in a company." He assures AI is not biomimetic. Yet…