THE FIGHT AGAINST SEXUAL AND GENDER-BASED VIOLENCE, A CORE COMPONENT OF THE START TO THE ACADEMIC YEAR FOR PRE-MASTER STUDENTS
As part of the programme organised at the start of the academic year for EDHEC Business School Pre-Master Students, the School chose to devote one of the first days on campus to the fight against…
Reading time :
20 Sep 2022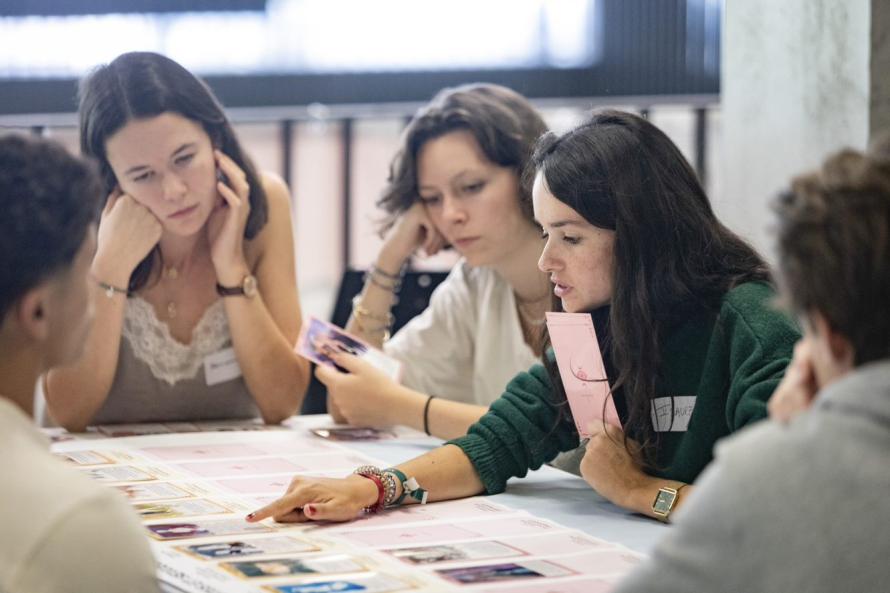 As part of the programme organised at the start of the academic year for EDHEC Business School Pre-Master Students, the School chose to devote one of the first days on campus to the fight against Sexual and Gender-Based Violence (SGBV), with the aim of helping the 720 students present to recognise and understand these forms of violence.  As Hager Jemel, Director of the Diversity & Inclusion Chair outlines, "organising this awareness-raising and training day right at the start of the year enables us to set out the common framework the School applies to SGBV and to respect for others, and to ensure all our students are familiar with it." It helps students to identify sexist and sexual behaviours and to act in a suitable way to prevent and avoid reproducing these forms of violence, and to help others who might be affected by them.  
Run by Ophélie Latil, founder of Dames Oiseaux, a consultancy providing equality and diversity training to organisations, the day began with a seminar titled: "The origins of sexual and gender-based violence: understanding the mechanisms of differentiation and domination". Focusing on the mechanisms of domination between the sexes, the construction of gender-related stereotypes and the process of invisibilisation, the seminar offered students an introduction to the fight against SGBV. 
Building on this initiative, the students took part in a workshop based on a unique educational tool -  "Act and Stop SGBV!" - developed by the Diversity & Inclusion Chair. This innovative tool takes the form of a card game and has been endorsed by France's Ministry for Higher Education, Research and Innovation. As Hager Jemel explains, it provides a means of reaching a broad audience: "We developed this educational tool a year ago and managed to deploy it quickly with a large number of participants. Last year, 2,200 students familiarised themselves with these issues through the tool. At the start of the 2022-2023 academic year, the number of students trained exceeded 4,000, including incoming BBA students who also took the seminar". Split into groups of seven, the students learned to relate forms of SGBV to legal definitions and tangible situations of SGBV, thanks to cases that could realistically occur in a student context (whether in public or private places), or in professional situations.  The students were helped in their task by 55 facilitators, trained by the Chair to foster discussion within the groups and to provide input on the subject of SGBV.
As a higher education and research institution, EDHEC is fully engaged in fighting SGBV in a variety of ways. These include strengthening reporting mechanisms on campus (particularly through a dedicated platform), running large-scale awareness-raising efforts involving all students, promoting student initiatives focused on the fight against gender inequalities and discrimination, and setting up dedicated psychological support services for students, including access to a psychologist on campus.