Finance Career Days: bringing professionals and students together
The latest edition of EDHEC Business School's Finance Career Days was held on the School's Nice campus on 15 and 16 September.
Reading time :
5 Oct 2022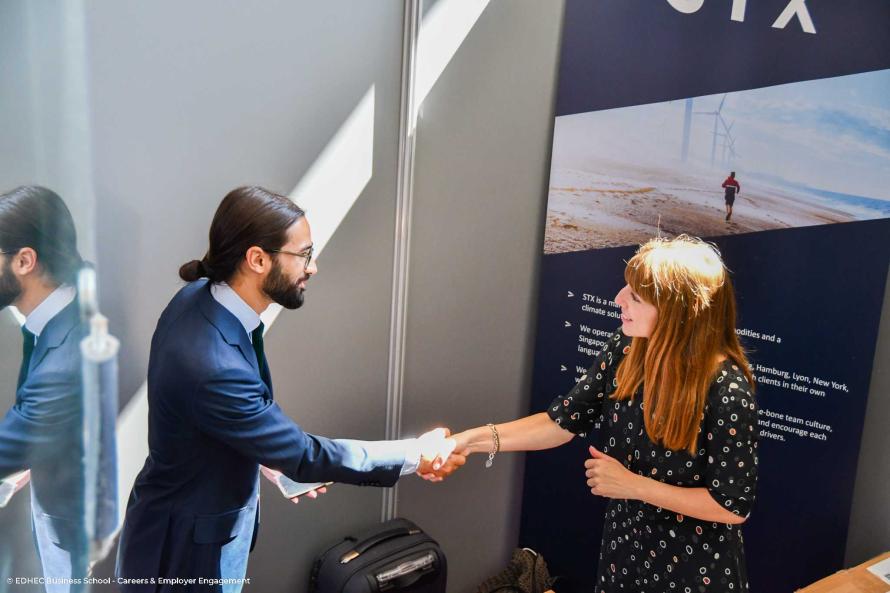 Facilitating student recruitment
The two-day event gave professionals from some 50 companies (Mazars, Deloitte, Axa, Bloomberg, PwC, Morgan Stanley, etc.) the chance to meet students enrolled on EDHEC's different Masters in Finance, by means of networking sessions or chats on the many corporate stands. This unique, wide-ranging event – 28 corporate presentations – was organised by the EDHEC corporate relations team with support from the Career Centre.
Thanks to its connections with the job market and privileged ties with all of EDHEC's corporate partners, the corporate relations teams organises events on a regular basis aimed at facilitating student recruitment: "The event gave our students access to incredible career opportunities and our partners the chance to obtain the CVs of our most talented individuals. With no fewer than 800 people meeting up on our campus, this "in-person" edition was a great success." explains Maria-Alejandra Larios, International Corporate Relations and Events & Marketing Manager at EDHEC. The success of the Finance Career Days underlines the professional world's recognition of the excellence of EDHEC's finance programmes and their suitability for the industry's needs.
Understanding contemporary issues in the financial industry
These events also enable students to get to know more about the industry they want to join and to understand its specific issues. The edition was rounded out with two conferences focusing on current issues and ongoing changes in the industry, one on the subject of "Women in finance" and the other on "Green and finance". Designed as forums for sharing experiences, both conferences were led by professionals.