FT Master in Management 2020 ranking : EDHEC's MIM continues its progression in the world's Top 20 to be ranked 16th worldwide
In its newly-published annual ranking of the world's top Masters in Management, the Financial Times (FT) positioned EDHEC 16th worldwide, a rise of 3 places from 2019. And for the 7th year running,…
Reading time :
28 Sep 2020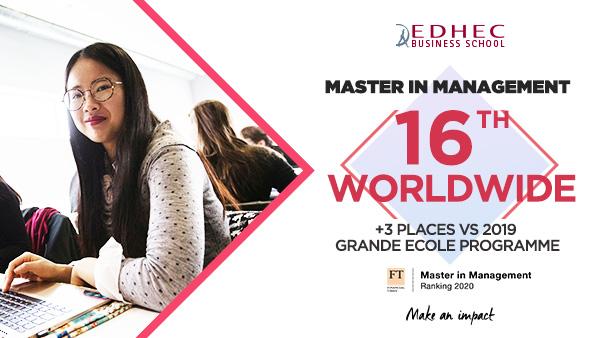 In its newly-published annual ranking of the world's top Masters in Management, the Financial Times (FT) positioned EDHEC 16th worldwide, a rise of 3 places from 2019. And for the 7th year running, EDHEC ranked 4th among French business schools for the programme.
The FT ranking confirms the leadership the School has maintained for over 10 years, alongside the programme's prestigious partner institutions such as London Business School, University of St Gallen and three other French grandes écoles (HEC, ESSEC, ESCP Europe). 
For this ranking, EDHEC Business School ranks its Master in Management students – over 1,000 in total – who are surveyed by the  FT.
In a climate of globally escalating competition for the prestigious Master in Management programme - 16 new school entrants in 2 years - EDHEC's progress in the FT Master in Management ranking provides recognition for the School's decisions and their continual reiteration, and corroborates the choices of students originating from preparatory classes.
The FT ranking represents genuine acknowledgement for two of EDHEC's strategic priorities:
The quality of the School's training for businesses. Our continuous investment in career support and the tailored guidance we provide students in securing their first job and beyond were once again singled out by our recent graduates: our Careers service ranked 2nd in France,  and 12th worldwide.
EDHEC's international character. This aspect is reflected in many of the ranking criteria: the make-up of our teaching faculty (62% of faculty are non-French), the multi-cultural profile of our students, the School's ability to offer an international educational experience and our governance mechanism centred on a highly-cosmopolitan board (87% of members have international profiles).
"Year after year, EDHEC further cements its place among the world's top business schools and the leading institutions offering masters in management in France, like HEC, ESSEC and ESCP Europe. Whether in terms of candidates' preferences, international rankings or other criteria, students clearly make a choice for EDHEC: the brilliant career paths of our alumni in France and internationally are testaments to the personal, intellectual and professional development they undergo in the programme, allowing all our students to develop their abilities in the best conditions and to make a positive impact on the world "
underlines Michelle Sisto, Associate Dean, Graduate Studies.
** Programme Grande Ecole
Discover the 2020 Financial Times ranking
Discover the EDHEC Programme Grande Ecole
Discover the EDHEC Master in Management