Gianfranco Gianfrate speaking on climate change and credit risk
On 27 October 2020, Gianfranco Gianfrate, Professor of Finance, EDHEC Business School and Lead Expert on Sustainable Finance and Climate Change, EDHEC-Risk Institute will be speaking on the theme of…
Reading time :
24 Sep 2020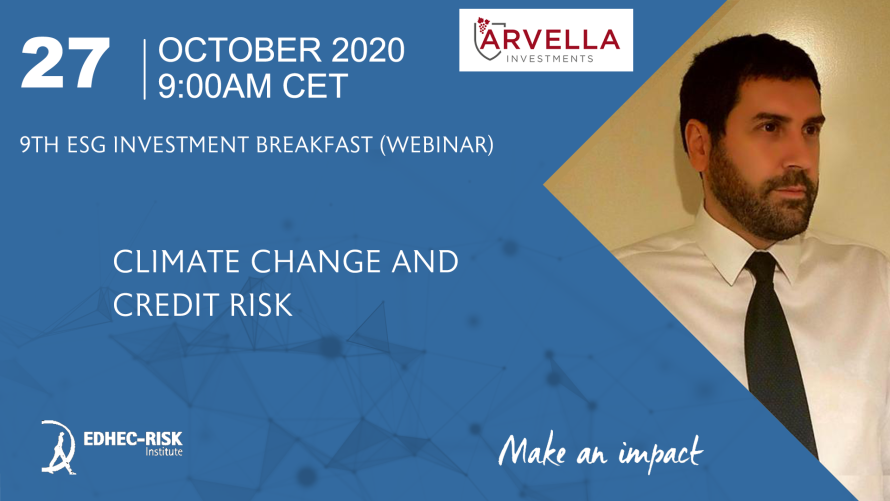 On 27 October 2020, Gianfranco Gianfrate, Professor of Finance, EDHEC Business School and Lead Expert on Sustainable Finance and Climate Change, EDHEC-Risk Institute will be speaking on the theme of climate change and credit risk at the 9th ESG Investment Breakfast (Webinar) hosted by Arvella Investments.
During the webinar, Gianfranco Gianfrate will discuss the relation between a firm's exposure to climate risks, measured as level of CO2 emissions and carbon intensity, and Merton's distance-to-default, a measure of creditworthiness widely used by rating agencies and investors. He will also address the policy implications and the threat the exposure to climate risks poses to the global financial stability.
On 27 October 2020, the agenda will be as follows :
9:00am – 9:30am CET : Presentation
9:30am – 9:45am CET : Q&A and Discussion
To register, please send an email to [email protected]. A link to the webinar will be sent to those who confirm attendance.
You can access EDHEC-Risk Institute research paper by Gianfranco Gianfrate "Climate Change and Credit Risk", published in February 2020.
He investigates the relationship between exposure to climate change and firm credit risk. He shows that the distance-to-default, a widely used market-based measure of corporate default risk, is negatively associated with the amount of a firm's carbon emissions and carbon intensity. Therefore, companies with high carbon footprint are perceived by the market as more likely to default, ceteris paribus. The carbon footprint decreases the distance-to-default following shocks - such as the Paris Agreement - that reveal policymakers' intention to implement stricter climate policies. Overall, these results indicate that the exposure to climate risks affects the creditworthiness of loans and bonds issued by corporates. Financial regulators and policymakers should consider carefully the impact of climate change risks on the stability of both lending intermediaries and corporate bond markets.
Gianfranco Gianfrate is Associate Professor of Finance at EDHEC Business School. He writes and researches on topics related to innovation financing, corporate valuation, and climate change finance. Prior to joining EDHEC Business School, he held teaching and research positions at Erasmus University (Netherlands), Harvard University (USA), and Bocconi University (Italy). Gianfranco also has extensive experience in the financial industry, having worked, among others, for Deloitte Corporate Finance (Italy), Hermes Investment Management (UK), and iStarter (UK). Gianfranco holds a BA and a PhD in Business Administration from Bocconi University and a Master in Public Administration from Harvard University. For detailed information, please consult the conference programme.
Arvella Investments is a sustainable wealth management boutique based in London and Paris. Our mission is to excel at managing wealth while making our world a better place. We integrate sustainability into a proven investment approach pioneered by leading US university endowments. We manage bespoke multi-asset portfolios for a select group of families, entrepreneurs and not-for-profits who share our goals and values