Gianfranco Gianfrate speaking on the pricing of green bonds
Gianfranco Gianfrate, Professor of Finance, EDHEC Business School and Head of the Impact on Climate Change of Financing and Investment Decisions programme at EDHEC-Risk Institute has been invited to…
Reading time :
1 Mar 2021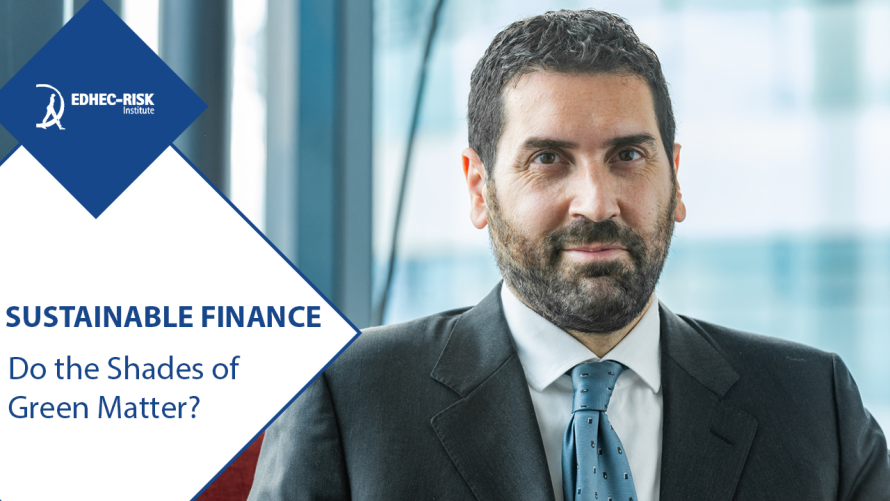 Gianfranco Gianfrate, Professor of Finance, EDHEC Business School and Head of the Impact on Climate Change of Financing and Investment Decisions programme at EDHEC-Risk Institute has been invited to participate in a debate where he discussed the pricing of green bonds and the importance of the "shades of green" for the rating of bonds. 
Download Gianfranco Gianfrate's presentation
The online debate GREEN(ISH) BONDS? was co-organized by the European University Institute (EUI) and the Florence School of Banking & Finance.
Institutional investors are increasingly attracted by a host of new financial instruments such as green bonds, social bonds, sustainability bonds or indeed sustainability-linked bonds. This forms part of a broader endeavour to rely on private sources to fund sustainable investments. Among these instruments, green bonds – the "stars of climate finance" according to The Economist – have shown high market uptake. Green bond issuances are regularly, if not systematically these days, oversubscribed.
Set against the background of an ongoing policy and academic discussion on the need for more transparent green bond markets, this online debate discussed the merits and limits of green bond financing. 
Specifically, this digital event tried to answer the following questions:
How green are green bonds really?

How could trust in the green bond market place be increased and sustained?

Are non-binding green bond standards showing their limits?

Is a new and binding green bond standard needed to eliminate any risk of greenwashing?

Are green bonds fairly valued by market players or is there a green bubble at play?
​
Watch the replay
Gianfranco Gianfrate participated in the online debate together with:
Thorsten Beck (Cass Business School and Florence School of Banking and Finance, European University Institute)

Justine Leigh-Bell (Climate Bonds Initiative), with a presentation on the Development of the Green Bonds Market
You can access Gianfranco' latest research paper "Do the Shades of Green Matter? The Pricing and Ownership of "Dark-green" Bonds", co-authored with Marco Spinelli. The published paper is part of a research programme sponsored by the Hong Kong Academy of Finance on the role of green bonds in financing the transition towards a low-carbon economy.
You can access his portrait interview "Gianfranco Gianfrate: EDHEC Sustainable Finance Thought Leader" where he discusses his recent nomination as Director of GRASFI, the Global Research Alliance on Sustainable Finance and Investment. He showcases EDHEC's Sustainable Finance thought leadership throughout the research, teaching and initiatives he is involved in. He also underlines the complementarity between finance and sustainability. Finally, he tells us about EDHEC-Risk's upcoming projects on sustainable finance.
Gianfranco Gianfrate is Associate Professor of Finance at EDHEC Business School. He writes and researches on topics related to innovation financing, corporate valuation, and climate change finance. Prior to joining EDHEC Business School, he held teaching and research positions at Erasmus University (Netherlands), Harvard University (USA), and Bocconi University (Italy). Gianfranco also has extensive experience in the financial industry, having worked, among others, for Deloitte Corporate Finance (Italy), Hermes Investment Management (UK), and iStarter (UK). Gianfranco holds a BA and a PhD in Business Administration from Bocconi University and a Master in Public Administration from Harvard University. For detailed information, please consult the conference programme.