Global MBA Alumni Share Career Advice & Insights
At EDHEC's recent Alumni Day as part of the CareerSmart programme, the Global MBA class was inspired by 15 international alumni. This all-day event hosted presentations and interactive roundtables,…
Reading time :
15 Dec 2020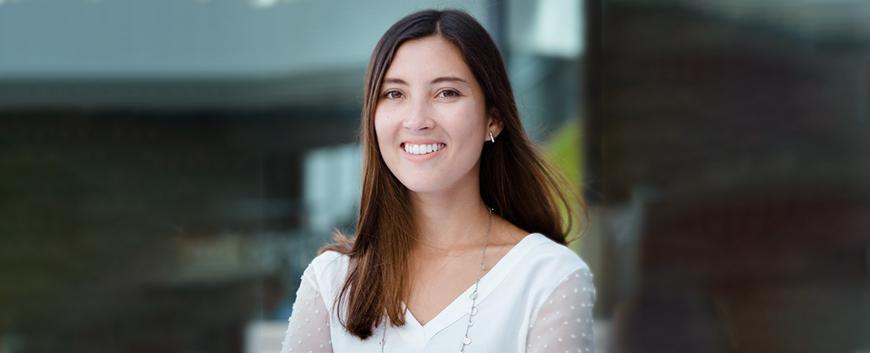 At EDHEC's recent Alumni Day as part of the CareerSmart programme, the Global MBA class was inspired by 15 international alumni. This all-day event hosted presentations and interactive roundtables, allowing students to gain insightful information from MBAs working at Amazon, Deloitte and more.
EDHEC knows first-hand the importance of a strong network, especially alumni. Leveraging these relationships is important to open new opportunities, but also to learn. Global MBA alumni go on to work for world-renowned companies or innovative start-ups making current MBA candidates wonder: How did they get a job at Deloitte? Or Bloomberg? Or BlaBlaCar? 
EDHEC's Global MBA programme is ranked #1 in the world for return on investment. The intensive 10-month MBA programme leads to 81% of students receiving their first job offer within three months of graduation. Many receive offers before they even finish the programme. Such exemplary alumni create an incredible wealth of information, a key source for current candidates to learn from.
That's why EDHEC hosts its Alumni events. Global MBA alumni are invited to share their professional journeys to the current class. During the most recent all-day event, Alumni shared first-hand insights, revealed hiring processes, shared networking tips, explained how students can maximise the MBA experience and network and more.
November's alumni day featured 15 diverse MBAs representing a wide scope of industries, backgrounds and nationalities. They tuned in virtually to share their unique experiences with one goal in mind: to help current MBAs.
Here's a closer look  at six alumni stories and their advice for future MBAs.
From Bogota to BlaBlaCar
Carolina Galindo - Marketing Operations Analyst, BlaBlaCar, Paris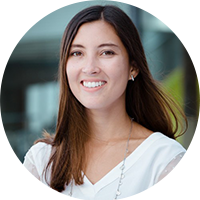 Originally from Bogota, she was working in the digital marketing world but wanted a change. She wished to transition from a marketing agency to a corporate setting, but wasn't quite sure how to. Plus, she specifically wanted to enter the French market. Carolina figured a France-based business school was the best plan to get there, leading her to discover EDHEC. 
Now Carolina works at BlaBlaCar in Paris, the first French unicorn company. She enjoys working for a company which has an eco-conscious mindset, making a positive difference in the transport industry. Additionally, skills from the MBA have helped her with facilitating team collaboration in a global setting. She advises MBAs to embrace the soft skills you learn at EDHEC, because they help her every day at BlaBlaCar.
Leveling Up to Nintendo
Patricia Segil Palacios - Financial Analyst, Nintendo, Germany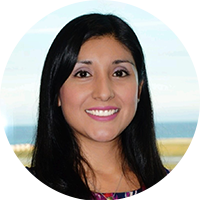 During Patricia's presentation, she inspired MBAs to welcome every opportunity because your plan can change - like hers. She set her sights on finding a full-time job, but she opened up to internships. This landed her at Amadeus as a Business Operations and Planning intern. This unplanned, but beneficial, internship opened her professional gateway to Europe.
Patricia now works at Nintendo in Germany. She's enjoying the excitement of the gaming industry because it's always evolving and innovating. Nintendo's work culture helps Patricia thrive, since her team is open and shares knowledge. She said the company fosters collaboration on projects and helps ensure that every employee succeeds.
She advises MBAs to always stay alert and actively look for opportunities. Also, be honest and unique during the interview process. Recognize what the company needs and prove how you as a candidate can bring a solution. 
Constructing a Future at Amazon
Adriana Molnar-Barton - EU Construction Manager, Amazon, Milan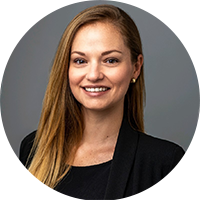 Like other fellow MBAs, Adriana came to EDHEC looking to make a change. She started her career in the Venezuelan construction industry. Upon moving to Germany years ago, Adriana learned she needed new skills to stand out, especially in a male-dominated industry. She wanted an international experience, so EDHEC's MBA was the perfect fit.
Adriana now works at Amazon, an interesting employer to many EDHEC graduates. If you want to work there, she recommends studying the particular Amazon hiring process. They focus on data, so be prepared to share statistics on the spot. Amazon also prioritizes leadership skills. 
Superyachts to a Sustainable Startup
Krystyna Ledochowska - Growth Manager, inalve, Nice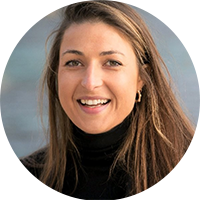 Krystyna shared her personal journey from sailing around the world to her first job in the superyacht industry. But after seven years surrounded by luxury and glamour, she eventually felt something was missing. She realized an MBA was the right choice to make a change and targeted EDHEC because of its unique sustainability specialisations. 
Krystyna is one of few MBAs to stay in Nice after graduating. She now works for a micro-algae startup with a laboratory in Villefranche-sur-Mer, called inalve. They patented a new way to grow microalgae producing the most sustainable source of protein on earth.
Her advice to MBAs? Use your time in the programme to network and research. Speak with people who work at the companies you're targeting and learn as much as you can. It will help give you direction in your job search.
Consulting Boutique to the Big Four's Deloitte
Ksenia Sukhova - Senior Consultant, Deloitte, London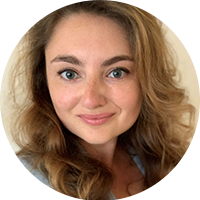 Ksenia has been in the consulting world her entire career. She started consulting in Moscow for a telecommunications company, then later worked for a boutique firm based in Germany. Her time traveling between their various European offices made her long for a more international career, leading her to EDHEC.
Ksenia is now based in London working for one of "the big four," Deloitte. As a Senior Consultant, she focusses on transformative changes and optimisations for her big clients. Her alumni presentation delivered unique insights to how Deloitte, and the consulting world, is navigating the COVID-19 crisis and her predictions for what's next.
If you're interested in consulting, Ksenia recommends practising consulting case studies. Prepare yourself with the real type of work you would encounter at a consulting firm. EDHEC's curriculum offers many of these examples and is an atmosphere where consultants, new or experienced, can learn and grow.
Turning a Passion into a Career at Bloomberg
Tommaso Pigato - AIM Trade Desk Analyst, Bloomberg, London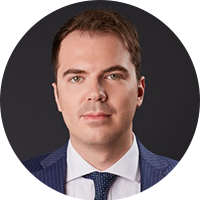 Making the triple jump is one of the hardest professional feats to accomplish. Surprisingly a number of EDHEC alumni have accomplished it, like Tommasso. He made the triple jump changing industry, job function and location. Originally from Italy, he was an HR manager but he always had a passion for finance and wanted to launch an international career. Tommasso was drawn to EDHEC for its unique Finance Track. Interestingly enough, his class trip to London's Bloomberg office inspired him to apply and get the job he has today.
For those interested in working at Bloomberg, he explained in detail how the hiring process works. If you can prove you fit the company culture of openness and collaboration - with a passion for finance - Bloomberg is continuously hiring in their analytics and sales departments. It's a great way to get your foot in the door at the global company.
Interactive Alumni Roundtables Open the Floor
The second half of EDHEC's Alumni Day had a more interactive setup. EDHEC MBA students were divided into small virtual groups of less than 10 students. Alumni then rotated through the meetings, allowing each group  intimate time to speak with a wide range of alumni with jobs from L'Oreal to La Redoute. 
The alumni that participated were:
Jinghua (Waltor) CHEN - Sourcing Manager, La Redoute - Lille, France
Martin Gasper - Sourcing Manager, Research Services, Roche - Basel Area, Switzerland
Sithabile Kachisa - Head of Maybelline, Sub Saharan Africa, L'Oréal - Paris, France
Luciana Mendes - Corporate Financial Controller, Schneider Electric, Paris, France
Akiko Kurihara  - Credit Risk Analyst, Deutsche Bank, - Berlin, Germany
Triparna Chakraborty - HR BP, Roche - Zug, Switzerland 
Nadav Mordechai - Israeli| Principal for Product & Strategy at Elsewhen - London, UK
Nagraj Shetty - Senior Manager at Capgemini Invent - London, UK
Britta Tilsner - Senior Partner Manager, Amazon Web Services - Munich, Germany
Krystyna Ledochowska - Growth Manager at inalve - Nice, France
These brief but insightful 20-minute breakouts are designed to encourage MBA students to ask more insightful, direct questions rather than focussing on the big picture. Students researched this list of alumni and prepared questions in advance like, what challenges did they encounter? Or what type of profiles is your company looking for?
The Importance of Alumni Day
EDHEC is proud to host such exemplary MBA alumni for this event year after year. Their successful careers give hope to current students while their insights give unrivaled advantage to prospects. Alumni day is an incredible opportunity to learn from those who have been exactly where current MBAs are today. Mutually they understand one another and are able to connect on a deep professional and personal level.
Alumni Day is just one of many annual events that EDHEC hosts designed to educate and support its Global MBAs. EDHEC Business School's alumni network spans 40,000+ worldwide, and Alumni Day helps close the gap between those in the workplace and those eager to enter it.
To find out more on our inspiring MBA alumni careers, why not download our 2020 Talent report?