4 Ways a Global MBA Helps Develop Your Leadership Skills
Reading time :
5 Dec 2022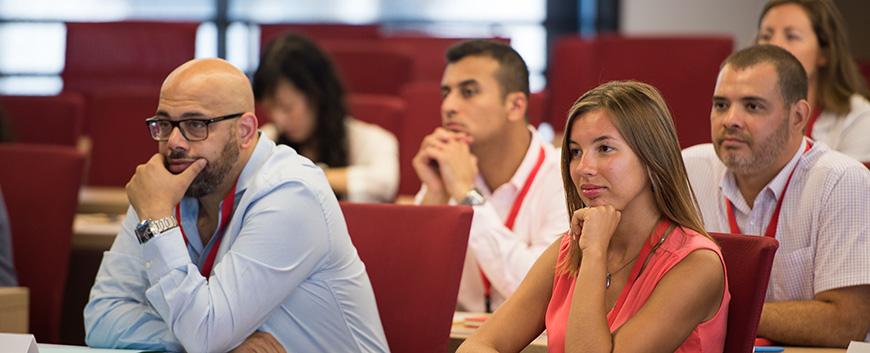 In a fast-paced, ever-evolving business world that's being constantly disrupted by new technology, being a good leader is never achieved: it's an ongoing process. It's all about learning to reflect - on yourself and on your business - and adjusting your approach to keep up with what's changing. The EDHEC Global MBA experience is a unique opportunity to engage on this path. Here are 4 ways our Global MBA cultivates leadership skills that can transform you into a world-class leader. The newly revised Global MBA Programme now contains an even stronger focus on ethical, principled leadership.
#1 Leadership Development - Take a moment to reflect
As technology and digitalisation continue to progress, and as new generations enter the job market with new expectations and values, it's necessary for any leader to take a step back and reflect about the way they manage their teams and organizations. But this simple step can be hard to take in the rush of everyday business life. Thanks to its focus on personal and leadership development through career coaching, EDHEC Global MBA gives you this precious space for self-reflection. 
The Global MBA leadership development techniques allows participants to cultivate their own unique leadership values and style.
"Managers are often in "Go, Go, Go" mode, but if you keep running ahead you may not realize you have taken the wrong road… With EDHEC Global MBA, you take a necessary step back, to look at the map before you start running again." Julia Milner, PhD, Professor of Leadership at EDHEC.
#2 Develop an open outlook on the world
On your path to agility in a globalized environment, keeping an open mindset is key. With learning expeditions to business hotspots such as London, Singapore or the Silicon Valley, Global MBA participants get inspiration from other practices and cultures. Besides, ranked 2nd best MBA in the world in terms of diversity by the education experts at QS, the programme is an opportunity to experience and learn from cultural diversity – just like a miniature of today's global business world.
#3 Get inspiration from the best coaches and leaders
With a teaching approach combining academic expertise and an emphasis on action learning, interaction with the business world is at the heart of the EDHEC Global MBA programme. Thanks to real case studies and partnerships with many innovative leading companies such as Amazon, IBM, L'Oréal or Google, MBA participants get direct inspiration from those who are shaping the future of business.  
#4 See yourself as a leader… and a coach
When it comes to developing a more agile and effective leadership, coaching is not only a personal tool, but also something you can leverage to drive your teams towards higher performance - by giving them plenty of feedback for example. An award-winning academic and leadership expert, Julia Milner, PhD, Academic Director of the Global MBA, promotes this innovative vision of "leaders as coaches", thus encouraging participants to broaden their vision of leadership.  
"For leaders, coaching can be challenging. It requires practice, feedback, reflection... and more practice. That is why, in our Global MBA programme, a whole course is dedicated to managing human capital with coaching." Julia Milner, PhD, Professor of Leadership at EDHEC.
Are you ready to transform your career?
Download the brochure to find out how the EDHEC Global MBA will give you the tools, knowledge and confidence you need to accelerate your international career.