Global MBA Leadership Track – Business Trip to Singapore
April 28, 2016 It was 8AM and after just a 10-minute walk we could already feel that steamy heat. The same heat felt like a smothering hug when we came out for the lunch break after being in the…
Reading time :
26 Jan 2021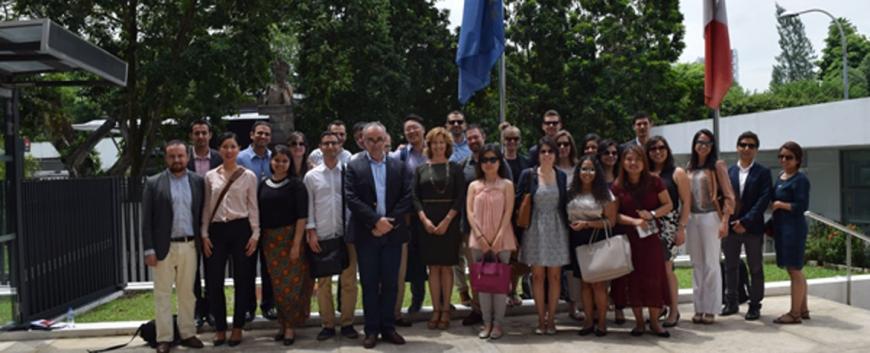 April 28, 2016
It was 8AM and after just a 10-minute walk we could already feel that steamy heat. The same heat felt like a smothering hug when we came out for the lunch break after being in the freezing air conditioning all morning, but at 8AM, it was the first sign that we were not in France anymore.  We were in Singapore.
The weather is just one of the things we will remember from our business trip to Singapore. For participants of the Global Leadership Track in the Global MBA program at EDHEC Business School this was a hands-on opportunity to meet company executives – mostly expats – that are working in a very unique place. We learned about the opportunities and challenges of working in the city state of Singapore, one of the most important business hubs in Asia today.  
[/column]
The Lion City, as it is popularly known, has come a long way in a little over 50 years. It has developed into an impressive business ecosystem. It is a place with traditional industries like manufacturing, oil and financial services and more booming industries like services, Fin Tech, Big Data and Startup accelerators. Singapore is a magnet for foreign investment. One of the easiest places to do business in the world. Thanks to its highly skilled – truly highly skilled – work force and zero-tolerance against corruption, Singapore has attracted a wide range of big international companies. Among the companies we visited were Hermes, BIC, Google and Hudson. 
For participants this was also an opportunity to network and make connections in a part of the world to which we normally do not have access. We had opportunities to meet EDHEC alumni that are currently working in Singapore. We also had the honor to meet the Ambassador of France to Singapore and staff from Business France who gave us an overview of what it is like to work in Singapore and also gave us tips on how to approach the job hunt there.
The business trips that are part of the Global MBA at EDHEC Business School, whether it be to San Francisco (Entrepreneurship and Criminal Risk tracks), London (Finance track) or in our case to Singapore, are a unique opportunity for participants to experience a business environment at the source – not through a book or a presentation. It is the next best thing to moving to that country.  Needless to say, this was a life-changing experience.
By Damaris Garay Martinez, MBA candidate 2016