How should we lead digital transformation? [A live webinar]
The EDHEC MBA Project Management Club, in partnership with PMI France Côte d'Azur, is offering a live webinar on Thursday 22nd April from 6.45 pm until 8pm dedicated to digital transformation. The…
Reading time :
19 Apr 2021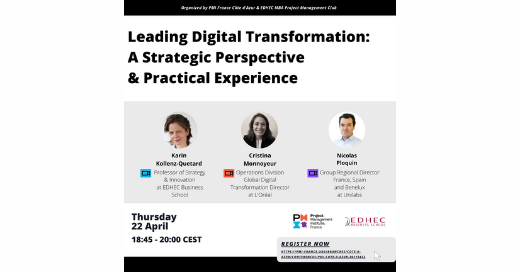 The EDHEC MBA Project Management Club, in partnership with PMI France Côte d'Azur, is offering a live webinar on Thursday 22nd April from 6.45 pm until 8pm dedicated to digital transformation.
The conversation will cover the main different areas of digital transformation, ranging from process to business model digitalization and also covering cultural and organizational transformations. The speakers will share their strategic views and practical experiences.
Karin Kollenz-Quetard, keynote speaker, consultant and professor of Strategy and Innovation at EDHEC Business School, will discuss the imperatives for successful digital transformation. She will be joined by Cristina Monnoyeur, Operations Division Global Digital Transformation Director at L'Oréal and Nicolas Ploquin, Group Regional Director France, Spain and Benelux at Unilabs. They both have led the digital transformation of their companies.