'I made a donation for EDHEC's social commitment', Patrick Van Den Schrieck, Alumnus and Grand Donor
A graduate of EDHEC in 1965, Patrick Van Den Schrieck is Chairman and Chief Executive Officer of Sarbec Cosmetics and a Grand Donor of EDHEC Business School. We interviewed him on his career, his…
Reading time :
8 Dec 2020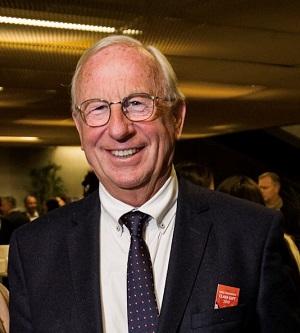 A graduate of EDHEC in 1965, Patrick Van Den Schrieck is Chairman and Chief Executive Officer of Sarbec Cosmetics and a Grand Donor of EDHEC Business School.
We interviewed him on his career, his managerial vision and the reasons for his sizeable donations to the School. What ensued was an inspiring and honest discussion with a generous and audacious entrepreneur from northern France, equipped with a fundamentally international vision.
You started your career with Auchan in 1965. How was it in the beginning?
During my third and final year at EDHEC, I decided to leave for the US, without any real qualms. My parents helped me pay for the plane ticket, but the rest was up to me!
I spent two and a half months in the US, where I worked in a supermarket, or more accurately a 'self-service store' because it wasn't yet called a 'supermarket' at the time. I was in charge of the pyjamas and socks section.
After seeing and working in this type of store, which didn't yet exist in France, I said to myself, 'rather than going to five stores, they've got everything under the same roof here!'. I didn't have that much English, but I got by on my humour and creativity. I discovered that it was the consumer that ran things in these large stores. I told myself 'there's potential to do something, something new.'
Returning to France, I was hired as the first executive at Auchan in Roubaix. The Dean of EDHEC at the time wasn't very pleased with it! I was one of the few who'd done lengthy studies and he found it embarrassing that I'd started as a mere 'mustard seller'! (laughs). That was the mentality at the time.
After a few months, I wasn't satisfied with my job at Auchan. My view was that the team didn't know how to negotiate or generate a profit and that they were heading for a fall! I handed in my resignation and I even dared to tell them 'I don't need my salary, you can keep it, you'll probably be needing it!'
Mr Mulliez, who was obviously very surprised, ended up by calling me back. He told me 'you said some harsh things! I'd like to see you again.' I didn't have anything to lose, so I went. He asked me what I wanted to do. I said that I'd come to develop the store, add fresh products, non-food items, etc. At the time, Auchan Roubaix was only doing grocery products and very few fresh products; it was the little neighbourhood store. I said Auchan 'needs to do 3,000 to 5,000m2 stores', which was unimaginable in Europe!
I explained to him how I wished to proceed. I told him 'I want to be a store worker'. I wanted to work at all the jobs I was going to be managing a month later. I also wanted to know all my suppliers, so I visited over 100 factories at the time.
I wanted to be given free rein and full trust. At the risk of being fired without salary or compensation if things didn't work out!
Can you explain to us the importance of being a 'store worker'?
I've always had the desire to really understand each person's role, so as to be able to develop the company well afterwards. 
My colleagues at Auchan were really surprised at me wanting to do all the jobs, without managing anyone, with the aim of putting myself in the place of all the people I was going to manage later on. It lasted one month. I spotted all the errors and the time lost on each job during the period. I was constantly asking myself 'what can we do better?'
I want to understand pretty much all that my staff do, in order to give them the right instructions and give them new ones that are better. That's what complete management means to me. It's not because you've got a manager's badge that you're managing! Knowing what our employees have to do, knowing what we want to have them do and hence giving the instructions needed to move forward, that's what's interesting. If you want to move the company forward, the bosses need to know things well enough to move the people below them forward, so as to 'push from the bottom', and not 'push from the top'.
You can be a store worker during internship periods nowadays. If you're doing an internship in what you want to do, it's even better!
What did you do in the next part of your career, with Mayolande-Bénédicta Bénénuts?
After nine years at Auchan, and after opening several Auchan stores including Auchan Ronq and Auchan Englos, I joined the Mayolande-Bénédicta Bénénuts group as Chief Executive Officer. My aim was to increase turnover and broaden the product ranges. My first instinct was therefore to visit the factory. I noticed that the machines weren't operating at night. I said to the team that 'a machine must never stop, it has to keep going day and night!'. So I organized staff breaks and hired an extra person so that we could arrange staff rotations. Right from the first month, we gained 20% in productivity! We developed numerous product ranges that still exist today – peanuts, sauces, etc. The company was then sold on at a very good price and I left it at that moment, although I was consulted for the negotiations.
What did you get from your position as Chairman of the Chamber of Commerce and Industry for the Nord - Pas-de-Calais region?
I was Chairman of the Lille Chamber of Commerce and Chairman of the Regional Chamber of Commerce for 10 years. I was also responsible for the 70 chambers of commerce in France and all French chambers of commerce abroad for 15 years. I travelled a lot to meet chambers of commerce and embassies. It was a commitment on behalf of the member companies. I went abroad to see the best of everything that was being done, so as to bring it back to France. It was a great eye-opener for me!
Why did you join EDHEC's Board of Governors at that time? 
At the time, EDHEC was located in a little house on Boulevard Vauban in Lille. The School didn't have the organisation it has today. I had a budget devoted to schools at the time and I used to give 50% of it to EDHEC, because EDHEC was clearly going to be the future! EDHEC has always tried to be 'a little apart', different from other schools and institutions in the region, avant-garde in short. That's what I liked.
Can you tell us about your role as Chairman and CEO of Sarbec Cosmetics?
I now manage around 500 staff. Through my role, I've had an enormous amount of international exchanges, notably with Japan. I remember I once invited a big Japanese boss to the Nord region, so he could develop his factory here. I took him into the middle of a field and said 'this is your factory, here it is!' I think you need to a bit of nerve at times!
What can you say about your experience at EDHEC?
I really liked EDHEC. First of all, there were only 70 of us in our class, so it was certainly a lot more 'schoolish' than now! Group work didn't really exist, for example. Next, the subjects we were taught were really new to us: we used to talk about economics and management. Already, the School wanted to prepare us to be business leaders or executives in companies, which was something they didn't use to teach in other schools. Lastly, the professors were specialised and very generous in their teaching, they wanted to give us everything they knew! The accountancy class was given by a chief accountant, etc.
I think it was really good to have looked at all the fundamentals. If you have, you can discuss matters with your staff and be sure you know a certain number of things. EDHEC Business School taught me to understand what others do and to guide them. I think it's a good grounding for managing fairly quickly.
In addition, I was highly involved in extra-curricular activities during my studies and it was exciting! I was class delegate. And there weren't any student associations at the time, so I created the EDHEC ski club for EDHEC students, as well as the ski club for the Nord region, for those not at EDHEC. I've always been eager to be open to others. I encouraged EDHEC students to discover factories; a lot of them had never seen one before. Everything you could learn outside books, I did it through sport or factory visits!
Thanks again for your financial commitment to EDHEC. Why the donation?
I made the donation for EDHEC's social commitment, which I appreciate a lot. There is a bursary programme that enables people to attend the School, people who deserve to be there, but otherwise wouldn't be able to attend. 
I also donated because EDHEC's become highly international, and I think that's really good.
Lastly, I also made the donation to help the School broaden its horizons and to continuously innovate. For me, broadening horizons means fostering diversity, not simply between men and women, but diversity in terms of having much broader visions, knowing how to look sideways: other professions, other countries, other ways of doing things, not with compassion, but with a great deal of interest, with the aim of discovering things. 
A lot of people are great at what they do and there's a lot we can gain from others. And I don't mean money. I'm pretty curious and I like knowing that my donation to EDHEC is going to allow the School to broaden its field of action. Lastly, one thing I've always kept in mind is that when you receive something, you have to give something in return!
What is the school's strength in your opinion?
I'd say it's the School's diversity, with people who come from all horizons and its much greater international vision than any other school. It also looks towards the future.
Do you recruit EDHEC talent?
Not enough! I'd like to find candidates ready to set up new companies and launch subsidiaries internationally. We need people with ideas and who are eager to develop business on the ground. We're working with an EDHEC graduate in our Marketing Department at Sarbec Cosmetics, who is very good and has a real international profile.
What advice would you give to students?
You need to dare! Dare to do things that don't exist or that you could improve. Don't wait for things to happen. Know how to surround yourself with people who know how to do things, sometimes better than you. You won't succeed with everything of course, but ask yourself how you can do better. Work and try to understand. And be careful despite everything!
To know more about EDHEC Giving: https://giving.edhec.edu/en
To more more about EDHEC Alumni: https://alumni.edhec.edu/en/