With IBM, digital innovation at the heart of EDHEC's Global MBA
Starting in April 2018, EDHEC Global MBA participants can now opt for a new specialization course : the Digital Innovation Track conceived and taught in partnership with IBM France. Innovation and…
Reading time :
6 Oct 2017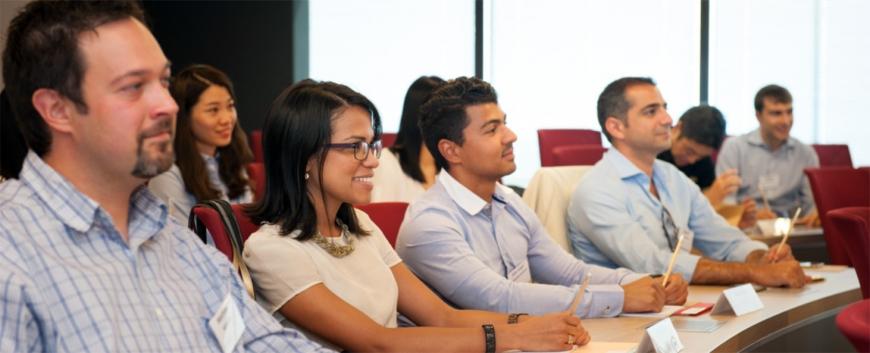 Starting in April 2018, EDHEC Global MBA participants can now opt for a new specialization course : the Digital Innovation Track conceived and taught in partnership with IBM France.
Innovation and new technologies are at the heart of EDHEC's Global MBA, a high-level program training executive and entrepreneurs from all over the world to master the key issues of contemporary business. The creation of this dedicated track enables EDHEC to go further, relying on the skills, knowledge and experience of IBM France's Global Business Services, whose consulting activities for some of the world's biggest companies combine technological expertise.
"IBM joins the circle of EDHEC's Global MBA prestigious academic partners, which already includes Amadeus, Google and Amazon. This partnership is an opportunity for EDHEC and IBM to build a strong relationship, which includes IBM's participation in conferences and roundtable discussions and other campus initiatives." Sandra Richez, Head of EDHEC's Global MBA Careers & Corporate Services
An immersion into an ultra-innovative group
The Digital Innovation Track will take place over one month. A third of its classes will be co-produced by EDHEC's Global MBA and IBM France and taught by IBMers. They will touch on topics such as digital transformation, change management, the history and development of artificial intelligence, IoT and design thinking. Participants will also deepen their knowledge of such technical notions as blockchain, hybrid cloud and machine learning. For Karin Kollenz-Quétard, PhD, Professor of Strategy, Innovation, Disruption and Digital Transformation "This new track will open our MBA students to a digital innovation mindset. They will gain perspective on how data and emerging technologies are impacting business and how companies can succeed in view of these changes."
Participants will also visit IBM France sites that symbolize the group's deeply innovative culture, such as its Sophia Antipolis R&D Lab or its Design Thinking studio, Global Industry Solutions Center and "Scale Zone", a new space dedicated to industrializing innovation projects between start-ups and other companies, in Bois-Colombes, near Paris.
A dynamic that is also consistent with IBM's will to develop a learning community around its fields of expertise, through direct interaction with the talents of EDHEC's Global MBA.